VW Polo GTI vs SEAT Ibiza Cupra and Skoda Fabia vRS
They're effectively the same car but with different looks and price tags. But which is best; the VW, SEAT or Skoda?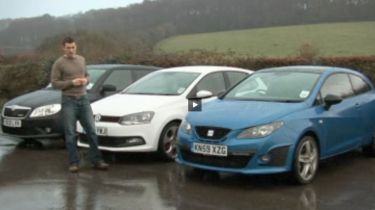 The Volkswagen Polo GTI is a very impressive car. It can do fast and furious but will also do comfy and relaxing if you like. Really, it's just like a Golf GTI in miniature. However, for a supermini hot hatch it does feel a little bit too sensible. As a driver's machine it's not as playful or as fun as a MINI Cooper S or Renaultsport Clio Cup. Plus, being priced over £18,000 makes it rather expensive.
However, there are some cheaper alternatives, which on paper at least are almost identical.
The SEAT IBIZA Cupra is a grand less than the Polo, while the Skoda Fabia vRS is a further fifteen hundred quid cheaper still. Yet all three cars share the same engine, gearbox and chassis. Effectively underneath their skins they are the same car apart from a few mechanical tweaks here and there.
So then, how do they compare. Let's start with the Ibiza.
While not as upmarket inside as the Volkswagen, the Cupra's cabin is still well screwed together with a definite sporty air to the proceedings.
Design wise – it's the most flamboyant of the trio, and this, plus the fact it's only available as a three door, suggests the Cupra is aimed at a younger audience than the Polo GTI.
You get the same impression from the driving experience. The SEAT's suspension is slightly firmer, which makes you think it can go to go round corners quicker. In reality though, there's no discernable improvement in handling, certainly not enough to warrant the loss in comfort anyway. What's more the Ibiza Cupra seems to have less front-end grip than its Volkswagen brethren.
As for the Skoda Fabia vRS? There's more roll through corners, the steering is the most vague of the lot and it fidgets about a bit on rough surfaces. But all this makes it seem the least serious of the three, and ultimately the more fun.
Sadly, for a hot hatch, it's not particularly exciting to look at. And the only alternative to the boxy five-door model is an even more sensible estate.
Inside, the Fabia is a bit unadventurous too. Only the vRS sports seats really hint at the potential.
For some people, though, the stealth effect is half of the appeal. The other half, of course, is good old-fashioned value for money.
So then what have we learned? Well, the VW is all about desirability while the SEAT focuses on emotion. The Skoda, on the other hand is all about delivering the best ratio of performance per pound spent.
And, after all, isn't that what hot hatches are supposed to be all about.