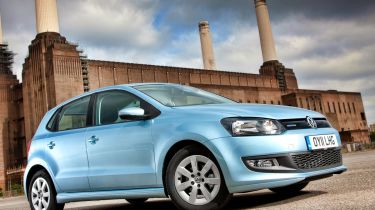 It won't cost you a lot to run a VW Polo, whether you go for the three-door of five-door, and the model with the lowest fuel consumption in the range is the BlueMotion.
This is powered by a 1.2-litre three-cylinder diesel engine, and promises 80.7mpg economy. It achieves this amazing figure – as well as 91g/km CO2 emissions, for exemption from road tax – with a mixture of low-rolling-resistance tyres, long gearing in the five-speed manual box and stop-start.
Yet climb aboard, and you wouldn't recognise this Polo as an eco model. The interior has the solid, durable feel of any Volkswagen, while the boot size is up there with the best, at 280 litres. It's also enhanced by an underfloor cubby.
Once again, the Polo isn't as good to drive as supermini class leaders like the Ford Fiesta, plus the diesel engine could be more refined. The price looks a bit steep, too, especially given the level of equipment on offer, although variable service intervals and a good-value pre-paid servicing package take the sting out of ownership.