WRC Polo R all set to be VW's 2017 World Rally Championship entry
Volkswagen has released details and a sketch of its 374bhp WRC Polo R rally car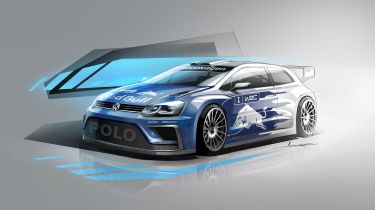 Volkswagen has given us an insight into its 2017 WRC entry – the Polo R. Images show the 374bhp super-hatch in all its glory, and give a preview of what the car may look like in competition.
The 2017 WRC Polo R has been under development since 2015, when the FIA released the latest set of regulations for WRC cars. The latest Polo R is lighter, wider, and significantly more powerful than the car that came before it – almost 60bhp more powerful, bringing the total from a still-respectable 313bhp to a massive 374bhp. This has been achieved by widening the air restrictor by 3mm, in line with the latest WRC regulations.
VW has also been able to add an electronic centre differential, and with the regulations allowing a lower minimum weight, the car has been reduced from 1,200kg to 1,175kg. A standard Polo weighs in at over 1,250kg, and that's without the complex rollcage, four-wheel-drive system and other driver safety aids fitted to the rally car.
The latest car increases its width by 50mm, again in line with latest regulations. A larger rear wing and massive front spoiler complete the visual updates to the WRC Polo R, though VW are keen to stress that this is only a visual concept and the real thing may look significantly different.
All the technology from the new car has been tested separately, but the 2017 season is the first time it will be used in competition. Volkswagen hopes to emulate the success of the current-generation WRC Polo, which currently tops the standings in this years championship. The next outing for the Polo is the fourth WRC round of the year – Rally Argentina from April 21-24.
Will you be watching the WRC Polo R in 2017? Let us know in the comments below...