Volkswagen Touareg review (2003-2010)
.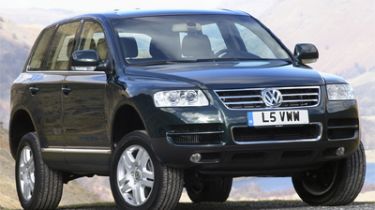 Like the thought of the Cayenne but not the looks? Or maybe its premium price is just too scary? Here's the vehicle for you then; a Volkswagen directly related to the Cayenne, with styling as refined and as classy as you'll find in this sector. Competing against BMW's X5, Mercedes' M-Class and Volvo's XC90, the Touareg really does look more expensive than its £30k starting tag suggests, with flawless paint and attractive details. The interior's even better, truly luxurious, with adorable features such as the watch-like instruments. Equipment's pretty good too, all models featuring climate control and plenty of electrical toys. Seats are very comfortable up front, there's a decent booth (with split tailgate), but rear passengers may be disappointed. There's decent space, but not an excess of it.
There's an extensive engine range though, opening with five-cylinder 2.5-litre diesel and V6 petrol units. Also included are a V8 and, eventually, mighty W12 petrols. The current range-topping engine is the awesome V10 diesel its combination of fairground-ride torque levels and decent economy, make it well worth the hefty list price. Most will go for the cheaper units though, which are both refined and effective enough; but watch the economy of the V6 when you're pressing on. As for ride and handling, both are naturally thoroughly competent. Handling is particularly impressive, the large body seeming to shrink around you, while ride quality firm but not uncomfortably so. More expensive models come with air suspension, which offers different settings, overall, it's very impressive.
Engines, performance and drive
0
MPG, CO2 and Running Costs
0
Interior, design and technology
0
Practicality, comfort and boot space
0
Next Steps
Which Is Best
Cheapest
Name

3.0 V6 TDI 4Motion 231 SE 5dr Tip Auto

Gearbox type

Semi-auto

Price

£46,650
Most Economical
Name

3.0 V6 TDI 4Motion 231 SE 5dr Tip Auto

Gearbox type

Semi-auto

Price

£46,650
Fastest
Name

3.0 V6 TSI 4Motion SEL 5dr Tip Auto

Gearbox type

Semi-auto

Price

£54,830