BMW X5 vs Volkswagen Touareg vs Porsche Cayenne
Can the all-new BMW X5 keep pace in the talented premium SUV sector? We test it against the Volkswagen Touareg and Porsche Cayenne
The X5 was BMW's first SUV. It symbolised a diversification for the Bavarian brand back at the turn of the millennium, and more than 2.2 million sales later – and with countless more SUV models in the line-up – there's a new version. Given the history, then, this is an incredibly important car for BMW.
As is the case with any new model, this fourth-generation X5 boasts a host of technology and other advancements, which the brand is hoping will help it weather the storm from a multitude of new and talented rivals – one of which is the new VW Touareg.
We've yet to test this car against its competition, and with Volkswagen pushing its large SUV even further upmarket and revitalising the Touareg's image, it's a strong match for the X5 when it comes to price, power, equipment and space.
Our third candidate in this battle of the upmarket SUVs is an established contender in this class. Porsche ceased selling diesel-powered cars last year, so this Cayenne E-Hybrid is the more eco-focused alternative to the diesel competitors it's going up against.
The Porsche is here after it secured victory against the new Audi Q8 and updated Range Rover Sport in our group test last year. Will it see off the VW and BMW, too? Let battle commence.
BMW X5
| | |
| --- | --- |
| Model: | BMW X5 xDrive30d M Sport |
| Price:  | £60,995 |
| Engine:  | 3.0-litre 6cyl turbodiesel, 261bhp  |
| 0-60mph:  | 6.0 seconds |
| Test economy:  | 33.0mpg/7.3mpl  |
| CO2:  | 162g/km   |
| Annual road tax:  | £450 |
This 'G05' generation X5 sits on a new platform for the model. We're testing the £60,995 X5 xDrive30d five-seater in M Sport trim to see how far the fourth-generation version moves BMW's larger SUV offering on.
Design & engineering
The new platform under the skin of the X5 is BMW's tried-and-tested CLAR architecture, which uses double-wishbone front and multi-link rear suspension. It's complimented by adaptive air suspension as standard, while there's also four-wheel steering for £995 to aid manoeuvrability. That's a bonus because this X5 has grown in size; it's 36mm longer than its predecessor, with a 42mm longer wheelbase, and it's also 66mm wider.
The exterior styling has changed, too, and while the oversized kidney grille is now comically large, active aero to reduce drag means it's actually a functional element to slightly boost efficiency.
This xDrive30d uses BMW's 3.0-litre straight-six diesel, boosted by a single turbo with variable geometry, to produce 261bhp and 620Nm of torque. It sends this motive force to all four wheels through an eight-speed automatic transmission.
As a result, the X5 has a degree of off-road ability – although don't expect it to rival a Land Rover – while you can bolster this talent away from the tarmac with BMW's £2,595 xOffroad Pack. This adds four off-road driving modes, a mechanical locking differential and some underbody protection.
However, it seems like a pricey option given that most X5s will spend the majority of time on the road. This is where the interior quality comes into its own.
You expect this from any £60,000 car, but the BMW's cabin is well built and feels plusher and more premium than the much-improved Touareg's. The interior design and materials used in all three cars are of high quality, but these factors also reflect the brands' approaches. The X5 and Cayenne are arguably just a fraction ahead of the VW.
Partnership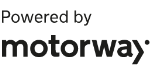 Need to sell your car?
Find your best offer from over 5,000+ dealers. It's that easy.
The kit list is strong. Parking sensors and a reversing camera, autonomous braking, heated leather seats, climate and cruise control (although not adaptive) are all standard. Also included are LED lights, a powered tailgate, sat-nav and a digital dash, plus wireless charging and Apple CarPlay.
Driving
The X5's powertrain is an example of how modern diesels still have a future in large SUVs such as this.
It's quiet, smooth and refined (also helped by the syrupy smooth transmission), and delivers a strong hit of performance thanks to that solid torque. It's the most muscular-feeling motor here, which means the gearbox doesn't kick down when you squeeze the throttle on a motorway. It easily had the measure of the VW in gear, although the Touareg was 0.1 seconds quicker from 0-60mph at the track, taking 5.9 seconds. This extra flexibility is a bigger boon more of the time – and the Porsche offers this, too.
It's very similar to the VW when it comes to ride quality. However, the BMW is better at medium speeds where the mass helps to limit the suspension's reaction to bumps. It's soft, mostly smooth and controlled, but it still suffers the same problem as the VW in how it reacts to big bumps on its large wheels, even if the X5 is more settled on the whole.
Grip is strong, but the steering isn't as precise as the Porsche's. There's more roll, too, and combined with the high seating position, it feels tank-like to drive. It is the quietest and most refined car, though. 
Practicality
There's more cabin space because of the X5's larger size; rear legroom is better due to the longer wheelbase, while more headroom and width mean seating three people in the 40:20:40-split seats isn't much of a squeeze.
You don't get any more luggage room than in the previous car, though. The 650-litre boot with the seats in place trails the Touareg's cavernous 800-litre load bay, but trumps the hybrid Cayenne's 645-litre offering (due to the Porsche's petrol-electric powertrain).
While the growth in size has meant it's roomier, it also ensures the X5 is a bit cumbersome and harder to manoeuvre. It has the largest turning circle of the three cars, but the four-wheel steering helps here. Still, there are no complaints with storage.  
Ownership
BMW's reputation with owners is mixed. In our Driver Power 2018 satisfaction survey, the brand was 21st out of 26 makers. Volkswagen finished fifth, while Porsche didn't rank.
The decent level of safety kit, such as standard autonomous braking, helped the X5 achieve a five-star Euro NCAP safety rating. You can boost this with the £2,295 Driving Assistant Professional pack, which adds cross-traffic warning, a system that helps you swerve to avoid objects, lane-keep assistance and semi-autonomous cruise control.
Running costs
Our experts predict that the new X5 and Touareg will both retain 47 per cent of their list prices. The BMW costs £2,700 more, so it will suffer £1,396 more in depreciation and lose £32,321 over three years/36,000 miles. That means it will be worth £28,674. The Volkswagen will shed £30,925 and be worth £27,370.
The lure of the Porsche brand is strong on the second-hand market, which is why the Cayenne is predicted to retain 51.9 per cent of its purchase price. However, although it costs quite a bit more than its rivals, depreciation of £32,884 is in the same region as the X5 and the Touareg, highlighting how well it'll hold its value. The Cayenne should be worth around £35,539 after the same ownership period.
Testers' notes: "The X5's engine note matches its muscular feel with a deep tone. It sounds enhanced through the speakers, but it suits the motor's character. Performance is more than adequate." 
Volkswagen Touareg
| | |
| --- | --- |
| Model: | Volkswagen Touareg 3.0 TDI 4MOTION 286 R-Line Tech |
| Price:  | £58,295 |
| Engine:  | 3.0-litre V6 turbodiesel, 282bhp  |
| 0-60mph:  | 5.9 seconds |
| Test economy:  | 30.7mpg/6.8mpl  |
| CO2:  | 173g/km |
| Annual road tax:  | £450 |
In this upmarket SUV class, the Touareg has never really excelled against its premium rivals, but Volkswagen has thrown everything at the new Mk3 variant. So with price on its side, is the £58,295 3.0 TDI 4MOTION 286 R-Line Tech model a winner?
Design & engineering
Thanks to the breadth of the Volkswagen Group, the Touareg uses many components and elements of tech that make up sibling models. It sits on the brand's MLB evo platform and has steel springs with adaptive dampers as standard, but there's a £2,370 air suspension option fitted here (including rear axle steering), which levels the price gap to the X5 straight away. The BMW features air springs as standard.
The VW uses a turbocharged 3.0-litre V6 diesel that edges the X5 for power, at 282bhp, but loses out on torque, at 600Nm. There's also an eight-speed transmission and four-wheel drive.
To match the X5, VW offers an off-road package with more driving modes to aid progress on loose ground, and a larger 90-litre fuel tank to boost cruising range. At £540, it's better priced than the BMW equivalent, but is still not a necessity.
The list of standard kit is lengthy, with the Touareg on par with the BMW for in-car tech.There are heated leather seats, adaptive cruise with autonomous emergency braking and other strong safety kit. Also fitted are a rear-view camera, climate control, a powered tailgate and parking assistance.
R-Line Tech trim matches BMW's M Sport spec with sportier looks, plus a 15-inch touchscreen, a digital dash and keyless entry and go. It's impressive how well all the kit is integrated, too. Yet while the materials are plush and the ergonomics sound, the VW is missing that last little edge that marks out the best premium cars, as in the BMW and Porsche.
Driving
The V6 TDI unit is one of the best VW Group engines around. When the turbos are on boost it's sweet and delivers its performance in a turbine-smooth dollop. 
However, there is more lag to your inputs with the accelerator than in the X5. It took 5.9 seconds to hit 60mph from rest, but lagged behind both of its competitors significantly in gear. This was particularly noticeable in seventh and eighth between 50 and 70mph, where the VW's times of 9.4 and 19.1 seconds were 2.1 and five seconds slower than the X5's and 3.9 and an enormous 11.2 seconds behind the Cayenne's.
The powertrain is hampered by the gearbox, though. The eight-speed unit is keen to shift up as early as possible to help efficiency, and there's enough torque for it to pull a tall gear at low revs.But this means that when you want a burst of acceleration, the Touareg sometimes kicks down aggressively, pitching up and rearing forward.
That's because it's also a soft set-up. This means it's comfortable on roads that buck and writhe moderately, but broken surfaces still send the optional 21-inch alloys rebounding skywards, and once the body is out of phase with wheel movements it can take a while to settle again. It tracks over ground relatively serenely, but the X5 is still slightly more forgiving. 
Running costs
Although the VW is shorter than its rivals, its 800-litre boot with the standard 40:20:40-split rear seats in place means it shades the X5 to the tune of 160 litres. It beats the Porsche by 165 litres as well. The tables are turned with the rear seats folded, though, because the X5 offers 1,870 litres to the Touareg's 1,800 litres, while the Porsche serves up 1,610 litres.
There's plenty of space inside the Volkswagen, but the X5 does feel roomier still, helped by that extra length in the body and wheelbase.
The Touareg's cabin storage matches the BMW's, with a central armrest that hides a big bin, a pair of cup-holders and a lidded tray in front of the gearlever, plus sizeable door pockets. 
Ownership
Volkswagen's result in the makers' chart of our Driver Power 2018 survey showed the brand can cut it with other premium marques, because it took fifth place, well ahead of BMW in 21st. But its German rival finished just one spot lower than VW in the dealer poll, in 19th.
The Touareg nudges ahead of the X5 and Cayenne for safety tech, too. Autonomous braking is now almost obligatory in this class and comes as standard on all three models, but the Volkswagen also gets lane assist, adaptive cruise and sign recognition.
Front cross-traffic alert, pedestrian protection and blind spot warning feature as part of the £860 Driving Assistance Pack Plus, and while the kit is good, it's not necessary because the VW scored a full five-star Euro NCAP crash-test rating.
Running costs
The Touareg is the cheapest model here, so it will be a cost-effective company car despite emitting 173g/km of CO2, against the X5's 162g/km. This is immaterial really, because both models fall into the top 37 per cent Benefit-in-Kind band. It means higher-rate taxpayers will shell out £8,436 and £8,896 respectively to run them.
The Porsche is pricier to buy than both rivals, but thanks to its petrol-electric set-up, its claimed CO2 emissions of just 72g/km massively offset that premium and mean it'll be a more affordable company car – to the tune of around 50 per cent of the BMW's cost. With the Cayenne's BiK coming in at £4,375 per year, there are big savings to be had by running a plug-in car if you're a business user.
Testers' notes: "There will be a plug-in hybrid X5 model arriving soon, which will rival the Cayenne. VW has confirmed a Touareg PHEV for the Chinese market later in 2019. Here's hoping this car will make it to the UK as well." 
Porsche Cayenne
| | |
| --- | --- |
| Model: | Porsche Cayenne E-Hybrid |
| Price:  | £68,423 |
| Engine:  | 3.0-litre V6 turbo + e-motor, 456bhp  |
| 0-60mph:  | 4.5 seconds |
| Test economy:  | 45.3mpg/10.0mpl  |
| CO2:  | 72g/km |
| Annual road tax:  | £440 |
The £68,423 Porsche Cayenne E-Hybrid is an alternative to a conventional diesel luxury SUV and beat the Audi Q8 and Range Rover Sport last year. But can it take two more scalps here?
Design & engineering
This plug-in Porsche is also based on the VW Group's MLB evo architecture. However, under the bonnet the Cayenne has a turbocharged 3.0-litre petrol V6 producing 335bhp, while an electric motor powered by a 14.1kWh lithium-ion battery adds another 134bhp.
The hybrid system's curiosities mean this works out to a total of 456bhp, while the electric motor's performance is instantly available, so maximum torque is 700Nm. But the Cayenne weighs far more than its opponents here, tipping the scales at 2,295kg.
There are driving modes in the Cayenne's rivals, but it's the hybrid drive settings that are important here. 'Hybrid' combines the petrol and electric power sources intelligently, 'Charge' force feeds the battery with power using the petrol engine as a generator, while 'Hold' can conserve this for use in town.
Of course, the car can also be plugged in to recharge the battery, taking around seven hours and 50 minutes to fully top up from a domestic supply using the standard on-board 3.6kW charger. Upgrade to the 7.2kW charger (£506) and Type 2 cable (£300), and this drops to two hours 20 minutes.
Cabin quality is the best here, so although the Porsche is significantly more expensive than its competition, it goes some way to justifying that gap with the technology on offer and the materials used.
Climate control, nav, CarPlay, connected services, electric leather seats, LED lights, cruise control, front and rear parking sensors and an electric tailgate are all included. The kit list broadly matches its rivals' – but the plug-in hybrid tech doesn't come cheap – and the Porsche badge arguably carries more cachet. 
Driving
The Cayenne also drives better than either rival. In fact, despite its extra weight, it's more agile than them, too, sharing Porsche's know-how from its sports cars with sharper steering, more grip and less roll, not to mention a performance advantage at our test track.
It took the E-Hybrid just 4.5 seconds to sprint from 0-60mph, which is faster than some performance coupés and an astonishing time for a 2.3-tonne SUV. That time is helped by the launch control, swift but smooth gearchanges from the eight-speed auto (this is no different at any speed on the road) and the electric motor's instant shove filling in for the petrol engine until it reaches optimum performance.
The Cayenne's in-gear times were incredibly impressive, too. It took only 7.9 seconds to accelerate between 50 and 70mph in eighth, with the engine's revs low thanks to the electric motor's assistance.
Air suspension is a £1,511 option, but it improved the ride on our test car, which was fitted with optional 20-inch rims. Progress was smoother, yet not quite to the point of the X5 or Touareg, because the big wheels mean sharper scars in the surface resonate through the structure a little more due to the Porsche's sportier focus. Yet there is still a welcome level of compliance and float that means the Cayenne delivers great comfort most of the time. But it's not at the expense of control, because this is the best-driving SUV here.
You can add refinement to that list, too, because although the generally firmer set-up and large wheels mean there's a little more tyre roar on a motorway, at low to mid speeds in EV mode it's impressively quiet.
Practicality
The standard Cayenne offers 770 litres of luggage room, but this is reduced to 645 litres because of the battery. However, this is still only five litres down on the X5, which doesn't have to package the same technology.
With the rear seats folded there's 1,610 litres, which does trail its rivals, but there's still more than enough space and therefore practicality here.
That extends to room inside as well. The cabin is a little tighter than its opponents', but again, only the tallest passengers will have any complaints. One area where the Cayenne is a little lacking is cabin storage. There's a pair of cup-holders behind a flap for your mobile phone, but many larger, more modern devices won't fit this. The lidded bin behind is acceptable, but the interior doesn't feel as flexible as its rivals'.
Ownership
Porsche doesn't sell as many cars in the UK as BMW or VW, so it didn't rank in our Driver Power 2018 survey. But the brand is known for its performance and reliability on the race track, a trait carried over to its road cars.
Safety tech is much improved with the latest Cayenne, too. Autonomous braking and eight airbags are standard, but blind spot monitoring and lane-keep assist are extra. Porsche's semi-autonomous InnoDrive system matches its rivals' packages. Euro NCAP hasn't crash-tested the car, although we'd expect it to be safe.
Running costs
We've already seen the savings the Cayenne can bring company car buyers, and the same is true at the pumps. On test the Porsche recorded a strong 45.3mpg, offering fuel costs of around £1,455 a year, but the more you charge up the lower this could go. It also proves a PHEV is a valid alternative to a diesel because the X5 and the Touareg returned 33.0 and 30.7mpg respectively, meaning fuel costs of £2,149 and £2,310 per year.
Servicing and insurance costs are likely to be higher due to the premium nature of these products, and because they all cost more than £40,000 they also attract the £310 VED surcharge, although the hybrid Porsche gets a £10 discount over its rivals.
Testers' notes: "An all-electric range of 27 miles means most E-Hybrid owners will be able to cover their commute on electric power. Regenerative brake feel could be better, though; the pedal is a bit wooden underfoot." 
Verdict 
First place: Porsche Cayenne
The plug-in Cayenne claws back its price deficit with incredibly low running costs to chalk up yet another win against premium opposition. The Porsche is well kitted out – although more equipment is optional – but it's the balance of performance and precision with comfort and practicality to match the X5 that carves out this example of tech as the future of luxury SUVs. 
Second place: BMW X5
Refinement defines the latest version of the X5. While it doesn't drive with the same precision as the Porsche and can't match its German rival for speed, the ride is comfortable. It's composed and massively practical, and the infotainment system is the best here. The BMW feels wonderfully premium as well, although it loses out to the Cayenne on running costs.
Third place: Volkswagen Touareg
The Touareg is a massive improvement and mixes it more readily with established premium nameplates. But while it shades its rivals for versatility, the Volkswagen doesn't feel as luxurious, isn't as good to drive and can't match their performance. It is well priced, though, and you get lots of kit, so if you're on a tighter budget this is still a sound buy – just not the best in class.
Other options in this category...
Audi Q8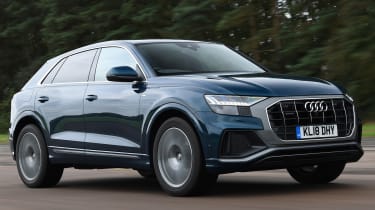 Model: Audi Q8 50 TDI quattro S linePrice: £65,040 Engine: 3.0-litre V6, 282bhp
Unlike the Q7, Audi's five-seat Q8 rivals the X5. The 3.0 TDI has the same power as the VW and slightly less boot space than the BMW, but boasts some great infotainment and semi-autonomous technology. It's worth considering.
Range Rover Sport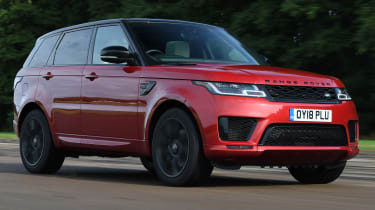 Model: Range Rover Sport SDV6 HSEPrice: £67,500Engine: 3.0-litre V6, 302bhp 
The Range Rover Sport has plenty of power from its 302bhp 3.0 V6, a massive 780-litre boot and updates to the styling and infotainment have kept it competitive. The ride is composed enough and the cabin scores for quality, too.
Figures
| | | | |
| --- | --- | --- | --- |
|   | Porsche Cayenne E-Hybrid | BMW X5 xDrive30d M Sport | Volkswagen Touareg 3.0 TDI 4MOTION 286 R-Line Tech |
| On the road price/total as tested | £68,423/£81,327 | £60,995/£66,935 | £58,295/£72,975 |
| Residual value (after 3yrs/36,000) | £35,539/51.9% | £28,674/47.0% | £27,370/47.0% |
| Depreciation | £32,884 | £32,321 | £30,925 |
| Annual tax liability std/higher rate | £2,187/£4,375 | £4,448/£8,896 | £4,218/£8,436 |
| Annual fuel cost (12k/20k miles) | £1,455/£2,425 | £2,149/£3,582 | £2,310/£3,850 |
| Insurance group/quote/VED | 48/£1,088/£440 | 46/£620/£450 | 42/£737/£450 |
| Servicing costs | £750 (2yrs) | £399 (3yrs) | £396 (2 services) |
|   |   |   |   |
| Length/wheelbase | 4,918/2,895mm | 4,922/2,975mm | 4,878/2,904mm |
| Height/width | 1,696/1,983mm | 1,745/2,004mm | 1,717/1,984mm |
| Engine | E-motor & V6/2,995cc | 6cyl in-line/2,993cc | V6/2,967cc |
| Peak power/revs  | 456/5,300 bhp/rpm | 261/4,000 bhp/rpm | 282/3,500 bhp/rpm |
| Peak torque/revs  | 700/1,730 Nm/rpm | 620/2,000 Nm/rpm | 600/2,250 Nm/rpm |
| Transmission  | 8-speed auto/4wd | 8-speed auto/4wd | 8-speed auto/4wd |
| Fuel tank capacity/spare wheel | 75 litres/repair kit | 80 litres/run-flat | 75 litres/space saver |
| Boot capacity (seats up/down) | 645/1,610 litres | 650/1,870 litres | 810/1,800 litres |
| Kerbweight/payload/towing weight | 2,295/735/3,500kg | 2,110/750/1,900kg | 2,070/855/3,500kg |
| Turning circle | 12.1 metres | 12.6 metres | 12.2 metres |
| Basic warranty (miles)/recovery | 3yrs (unltd)/3yrs  | 3yrs (unlimited)/3yrs | 3yrs (60,000)/3yrs |
| Driver Power manufacturer/dealer pos. | N/A | 21st/19th | 5th/18th |
| NCAP: Adult/child/ped./assist/stars | 95/80/73/62/5  | 89/86/75/75/5  | 89/86/72/81/5 |
|   |   |   |   |
| 0-60/30-70mph | 4.5/4.0 secs | 6.0/6.0 secs | 5.9/5.6 secs |
| 30-50mph in 3rd/4th | 2.0/2.5 secs | 2.5/2.9 secs | 2.5/3.2 secs |
| 50-70mph in 5th/6th/7th/8th | 3.3/4.2/5.5/7.9 secs | 4.2/5.4/7.3/14.1 secs | 4.1/6.1/9.4/19.1 secs |
| Top speed/rpm at 70mph  | 157mph/1,650rpm | 143mph/1,500rpm | 146mph/1,500rpm |
| Noise outside/idle/30/70mph | N/A/46/61/71dB | 72/42/54/70dB | 74/40/58/71dB |
| Braking 70-0/60-0/30-0mph  | 52.9/38.3/9.5m | 46.4/34.4/8.6m | 48.7/36.5/9.0m |
| Auto Express econ. (mpg/mpl)/range | 45.3/10.0/747 miles | 33.0/7.3/581 miles | 30.7/6.8/506 miles |
| Govt urban/extra-urban/combined  | N/A/N/A/88.3mpg | 40.4/49.6/45.6mpg | 36.7/47.9/42.8mpg |
| Govt urban/extra-urban/combined  | N/A/N/A/19.4mpl | 8.9/10.9/10.0mpl | 8.1/10.5/9.4mpl |
| Actual/claimed CO2/tax bracket | 167g/72g/km/16% | 229/162g/km/37% | 247/173g/km/37% |
|   |   |   |   |
| Isofix/parking sensors/camera | Yes/yes/£480 | Yes/yes/yes | Yes/yes/yes |
| Auto box/lane keep/blind spot/AEB | Yes/£783/£548/yes | Y/£2,295*/£2,295*/y | Yes/£860*/£860*/y |
| Clim/cruise ctrl/leather/heated seats | Yes/yes/yes/£308 | Yes/yes/yes/yes | Yes/adaptive/yes/yes |
| Met paint/LEDs/keyless/pwr tailgate | £749/£774/yes/yes | Yes/yes/£2,350*/yes | £850/yes/yes/yes |
| Nav/digi dash/DAB/connected services | Yes/yes/yes/yes | Yes/yes/yes/yes | Yes/yes/yes/yes |
| Wireless charge/CarPlay/Android Auto | No/yes/no | Yes/yes/no | Yes/yes/yes |