Care by Volvo subscription service expanded
The new V60 estate and S60 saloon to join the XC40 SUV in the Swedish brand's Care by Volvo service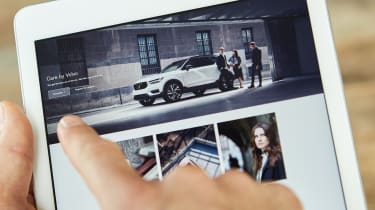 Care by Volvo, the Swedish brand's car subscription service, is being extended to include the new V60 estate and forthcoming S60 saloon, the company's boss has revealed.
The service, which rolls in a car, servicing and insurance for a monthly fee, is being trialled in the UK within the M25, using the XC40. But it has been rolled out with that vehicle across all but three states in the US, where Volvo boss Hakan Samuelsson says "more than a thousand" people have signed up.
• Volvo set to ditch diesel, reports suggest
Samuelsson says that Care by Volvo could account for a significant percentage of Volvo's vehicle registrations by the early years of the next decade - and he revealed the next cars that will be offered through the service. "In the US we've more than one thousand cars already in a couple of months," he said, "but five years from now, it should be about a quarter of our business. It could even happen faster than that. We're seeing a high conquest rate with lots of people who perhaps before have not owned a car - people who've used leasing or car rentals.
"We're offering Care by Volvo in eight countries right now," Samuelsson added, "and that's just with the XC40. Now we're doing it with the V60 and in a couple of months, the S60." That's the first confirmation that Volvo is going to expand the Care by Volvo range to include larger models, as well as its '40' series of small cars.
The V60 has already been made available on Volvo's UK site; a D3 Inscription version of the car costs from £829 per month on the scheme, based on an annual limit of 15,000 miles.
"The consumers will ultimately decide," Samuelsson said, "but see how many people actually buy their mobile phone these days. Most people are on 24-month plans instead. We think that in the future, consumers will appreciate being treated very transparently, with no nasty surprises. We don't want to follow the printer model where you buy the printer first at a good price, and then the ink costs you a lot."
Read our first drive of the new Volvo V60 estate right here...