Care by Volvo car subscription scheme rolls out across the UK
All UK motorists can now subscribe to the Care By Volvo premium car subscription scheme, which delivers the complete car service in one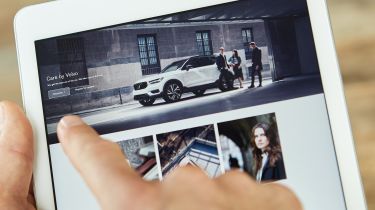 Volvo has expanded its premium Care by Volvo subscription scheme to the whole of the UK, following a trial period in London.
Buyers will pay a flat rate for access to a Volvo vehicle, including all servicing, maintenance and insurance costs. The scheme is priced noticeably higher than a conventional PCP finance deal or contract hire lease but it incorporates much more flexibility; a 30-day trial is included, and the cancellation notice period is just three months. Returning the car at either of these 'break points' brings no additional penalty costs to the customer. The scheme is available across the whole of the UK, with no supplements for more remote regions of Scotland or Northern Ireland.
The sign-up process for Care by Volvo can be conducted entirely online. Volvo says it should take minutes to find your vehicle, and there's the option of configuring your own model or taking a car that's already in stock. Should you do the latter, delivery should take no more than 30 days.
Prices start at £559 for an XC40 T3 Momentum, including digital online sign-up, dedicated customer care, servicing and maintenance. Insurance remains an add-on cost due to UK regulations and customer preference, however; there's the option of taking Volvo's own policy or sourcing your own cover. Nor does the scheme offer the scope to swap in and out of different models - to allow a larger or more efficient vehicle for a longer trip or holiday, for example. There was said to be little demand for this feature during the trial period.
The scheme has been offered in other countries for more than a year, and Volvo says that the average customer is noticeably younger than the usual buyers for the vehicles concerned. Conor Horne, head of Care by Volvo UK, said, "If we look at when people actually want to change their vehicle during a three-year PCP deal, there's a spike of demand at 24 months. And even in a four-year contract, the same spike exists. It's clear that customers want change, even when they are in a contractual relationship for longer."
Volvo UK says that the original target for Care by Volvo was for it to account for five per cent of its new-car registrations here. But patterns seen in existing markets during the Covid-19 pandemic have forced this to be revised upwards, and the company now hopes that one in 10 of its new cars in 2021 - an estimated 6,000 vehicles - could be supplied through the subscription scheme. The brand has already had almost 1,000 early enquiries about Care by Volvo across the UK - although senior officials admit that fewer than 100 people participated in the London pilot scheme.
Check out the full story of Volvo's upcoming coupe-SUV...