Volvo V20 Audi A1 supermini rival planned
Volvo will expand its range to include a smaller Audi A1 rival, offering buyers supermini dimensions with high-end features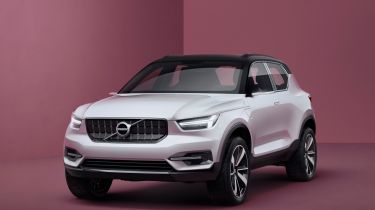 Volvo bosses have admitted they are looking at expanding the current product range by introducing a sub-V40 model designed to rival premium superminis such as the Audi A1 and MINI.
Speaking to Auto Express, recently appointed R&D chief Henrik Green, hinted at the feasibility of a smaller V20 hatchback and XC20 SUV models. The cars would be aimed at people who want all the high-end features found in the brand's larger cars, but in a city-friendly package.
• Best superminis on sale right now
"There is a lot of push to have smaller-sized vehicles, more convenience," Green told us. "These people who want these small cars, they may want the same kind of technology in the car, the same level of active safety support, the same level of connectivity, the same level of premium feeling in all the surface materials."
When quizzed about whether Volvo was ready for such a shift, Green assured us that the forthcoming CMA platform (used to underpin the upcoming XC40 SUV) could be shortened to accommodate an Audi A1-sized supermini.
"CMA can be made a bit smaller and the length is not really a problem," Green added. "It's more about how much space and legroom you want to have in the rear; that's the compromise.
"If you want to go one size down you can take it most from the length. You can work with the shape of the car."
Green suggested that the historic correlation between the price and size of a vehicle is going to change in the future. He hinted that as cities become more congested and more stringent emissions regulations come into force, buyers would be forced into smaller, more economical vehicles.
For that reason, Green predicts that many buyers will want all of the luxury trinkets, high-quality interiors and big-car features as they're used to, but in something with a dramatically reduced footprint.
"I think that as an industry we are still a bit stuck in the traditional pricing strategy. But if we would detach from that, I think the customers would have a stronger and stronger preference for smaller premium cars. I think it is the right future," he told us. "The probable future."
Green gave no indication on time frame, but it's certain that we'll see a full range of all-new 40 and 60-cluster cars before any 20-badged models appear in showrooms. As a result, it's unlikely we'll even see a concept before 2020.
Would you choose a Volvo over an Audi A1? Let us know in the comments section below...