Volvo S60 future undecided after removal from UK line-up
Volvo could axe the compact executive from its UK line up for good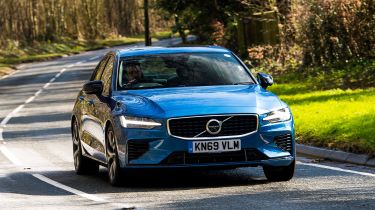 The Volvo S60 is no longer on sale in the UK, with the Swedish firm citing a 'temporary re-evaluation' of its product lineup as the reason for its withdrawal from British Volvo showrooms.
Introduced in 2019, the S60 received a mild facelift earlier this year which brought a new design of front grille and some new alloy wheels. The compact executive is the firm's least popular model, but the future of the S60 is still yet to be determined, says Volvo. 
In a statement, Volvo said "due to a range of issues, including supply and demand, we are re-evaluating our model line up, removing the S60 in the process". The S60 could yet return however, as Volvo states it will continue to "re-evaluate its product portfolio". 
The S60 is still listed on the Volvo UK website, priced from £51,780 for the 448bhp plug-in hybrid S60 Recharge version. However, the site says there are no V60s in stock. The V60 estate variant hasn't been axed from the Volvo lineup, despite sharing the same platform and powertrain options, suggesting S60's issues stem from its bodystyle. 
With it sitting on Volvo's SPA platform, the S60 won't get a pure-EV variant in its lifespan. There's no real pure-electric alternative to the S60 in Volvo's stable either, the closest being the Polestar 2 'liftback'. 
Even if the S60 is brought back, its days as an internal combustion engined compact executive are numbered. Volvo is planning on becoming a purely electric car maker by 2030 and in 2025 we'll see Volvo's sit on a new platform developed with parent company Geely. The SEA (Sustainable Experience Architecture) will be able to accommodate a range of electric vehicles - including S60-sized compact cars.