Volvo unveils driverless-ready production car
Volvo will build and sell the XC90-based vehicle, which is equipped with a number of autonomous driving systems, to Uber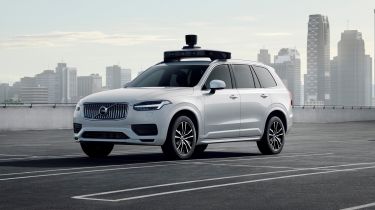 Volvo has revealed a production version of the XC90 built for ride-hailing app Uber, that the taxi firm says it can equip with its own technology to enable fully-automated journeys. 
The car is equipped with back-up systems for the steering and brakes, so it can bring itself to a stop if the main driverless systems that Uber installs fail for any reason, and also features battery back-up power.
• Volvo to crash test bike helmets against cars
In addition to Volvo's built-in back-up systems, the vehicle has an array of sensors attached to its roof that allow it to safely operate in urban areas.
Following an agreement between the two firms in 2016, Uber will buy tens of thousands of examples of the car between 2019 and 2021.
They will be rolled out across the Uber's network under the supervision of specially-trained employees, although the company says thee vehicles will become fully independent at some point in the future, without any need for a 'driver'.
Volvo is also planning to use a similar base vehicle concept when it introduces its first autonomous cars in the early 2020s. The next generation of the brand's models, based on the SPA2 vehicle architecture, will include features designed to enable unsupervised autonomous driving in clearly designated areas, such as motorways and ring roads.
• Uber deemed not criminally liable for fatal autonomous car crash
It is Volvo's belief that if all vehicles on the road were to become autonomous, there would be significant potential road safety benefits.
Håkan Samuelsson, president and chief executive of Volvo Cars, commented: "Our agreement with Uber underlines our ambition to be the supplier of choice to the world's leading ride-hailing companies."
Eric Meyhofer, CEO of Uber Advanced Technologies Group, added: "Working in close cooperation with companies like Volvo is a key ingredient to effectively building a safe, scalable, self-driving fleet.
"Volvo has long been known for its commitment to safety, which is the cornerstone of its newest production-ready self-driving base vehicle. When paired with our self-driving technology, this vehicle will be a key ingredient in Uber's autonomous product suite."
How long do you think it will be before autonomous car makes driving redundant? Give us your thoughts in the comments section below...