Volvo to crash test bike helmets against cars
Volvo and POC are working together on a crash test where cycle helmets are pitted against cars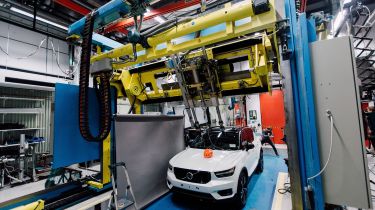 Volvo is working with Swedish sports brand POC to develop a new crash test to evaluate bike helmets' performance in a collision with a car.
The two brands are pooling their safety knowledge in order to collaborate on advancing and refining the existing crash tests for bike helmets, which are relatively basic – involving helmets being dropped from a certain height on to a flat or angled surface – and do not take collisions between bicycles and cars into account.
• Volvo launches comprehensive online car-buying service
When it comes to the safety of cyclists, Volvo's main aim is to prevent them from colliding with its cars in the first place with the use of active safety technology. The firm's cyclist detection system uses the car's cameras and radars to detect cyclists, before warning the driver and, if necessary, applying the brakes.
The new Volvo-POC project – part of a wider research scheme into the long-term injuries inflicted on cyclists – seeks to address the safety of cyclists in cases where a collision cannot be avoided.
At the Volvo Cars Safety Centre in Gothenburg, crash test dummies wearing bike helmets are mounted on a testing rig, from which they are launched towards different areas of the bonnet of a static car at a range of speeds and angles.
• New Volvos to get road-reading tech fitted to all models from 2020
This method is based on the existing regulatory tests for pedestrian head protection in a collision with a car, which allows Volvo and POC to draw a direct comparison between the amount of damage suffered when wearing a helmet and when not.
POC will use the findings of the project to make its helmets more effective at protecting cyclists in the event of a collision between a cyclist and a car, while Volvo will take them into account in the future development of its cars.
Volvo and POC have previously worked together on a different project, which looked at wirelessly connecting bike helmets with cars in order to prevent accidents.
Malin Ekholm, head of the Volvo Cars Safety Centre, said the brand wanted to "go beyond ratings, using real traffic situations to develop technology that further improves safety".
What do you think of Volvo's new bike helmet safety test plans? Let us know in the comments...