New Volvos to get road-reading tech fitted to all models from 2020
New Volvo safety system warns drivers slippery road conditions and hazards in real time via a cloud-based network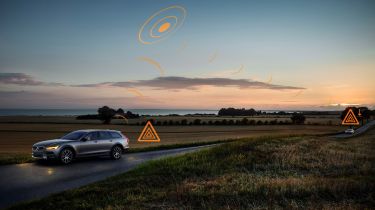 Future Volvos will be able to inform drivers about road conditions and upcoming hazards in real time thanks to new connected safety technology due to be fitted on all European models by 2020. 
The technology consists of two systems; 'Slippery Road Alert' claims to increase the driver's awareness of current road conditions by anonymously gathering road surface information from the cars ahead, warning drivers in advance before they approach a slippery section.
• Volvo models to watch for drunk drivers with in-car cameras
Meanwhile, the Swedish firm's 'Hazard Light Alert' claims to help drivers avoid potential accidents. When any Volvo equipped with the technology switches on its hazard lights, the system sends a signal to all nearby, compatible Volvos, warning drivers to be vigilant. Volvo states this system is particularly useful on blind corners and over the crest of hills.
Currently, the technology is only compatible with Volvos, but the Swedish firm is keen to grant other manufacturers access to the system. Malin Ekholm, head of Volvo's Safety Centre, said: "The more vehicles we have sharing safety data in real time, the safer our roads become. We hope to establish more collaborations with partners who share our commitment to safety."
The system will be fitted as standard to all new Volvos in Europe from next year. In addition, the Swedish firm states that the technology can be retrofitted to all models based on its Scalable Product Architecture (SPA) and Compact Modular Architecture (CMA) platforms, built from 2016 onwards.
This latest news follows Volvo's recent announcement that every new car it produces from 2020 will be electronically limited to 112mph, in an effort to reduce the number of road fatalities from speeding. The Swedish firm will also introduce a camera-based monitoring system by the same deadline, tasked with detecting erratic and drunk driving.
What are your thoughts on Volvo's latest safety system? Let us know in the comments section below…