Volvo models to watch for drunk drivers with in-car cameras
Volvo continues its big car safety push with a camera-based monitoring system to detect erratic driving.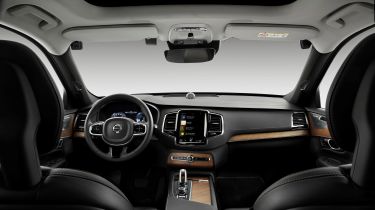 To tackle the issue of drivers impaired by the consumption of either drugs or alcohol, Volvo has announced that all of its new models will be equipped with in-car cameras.
The Swedish firm has identified the three main causes of road deaths - excessive speed, distraction and intoxication - and has set out to seek methods to prevent or mitigate the effects of each.
• Autonomous cars to report drunk drivers to police
Volvo's new in-car cameras, working with other on-board sensors, will be able to detect if an intoxicated driver is behaving in a way which could result in an accident causing serious injury or death. Examples of such behaviour, according to Volvo, include extended periods of time without any steering control, drivers not looking at the road (or with their eyes closed altogether), excessive weaving across lanes and slow reaction times.
If the car detects these signs, it can intervene in several ways to prevent harm to both the car's occupants and other road users. Such steps include alerting Volvo's 'On Call' assistance service, limiting the car's speed or, in extreme cases, actively taking over control of the car and safely bringing it to a halt.
While Volvo has long pushed towards building safer cars which feature both active and passive crash protection tech, it realises that, to ensure that it sticks to its 'Vision 2020' safety pledge, which aims to eliminate road accident fatalities in Volvo cars by 2020, drivers' behaviour will need to be considered, too.
Intoxication, whether a result of alcohol or drug consumption, is one of the biggest contributors to road fatalities worldwide: in the United States, for example, NHTSA research shows that almost 30 per cent of all road deaths involved intoxicated drivers.
The news follows on from Volvo's recent announcement that every new car it produces will be limited to a top speed of 112mph. Volvo will also release the 'Care Key': a system which allows the owner of the vehicle to limit its top speed themselves when lending their car to less experienced drivers, such as younger family members. Both of these features will be introduced in 2021.
What do you think of Volvos plan to monitor drivers in cars? Let us know in the comments below...