Volvo Concept XC Coupe points to next XC90 at Detroit
Sleek Volvo Concept XC Coupe that hints at future SUV is unveiled at the Detroit Motor Show
This is the Volvo Concept XC Coupe, which provides a glimpse into the future of its SUV line-up.
Following on the heels of the Concept Coupe that was revealed at the 2013 Frankfurt Motor Show, the SUV concept has made its debut at the 2014 Detroit Motor Show. It's the second in a series of three concepts that demonstrate the versatility of Volvo's new Scalable Product Architecture (SPA).
Despite its relatively low-slung stance, three-door, four-seater layout plus dimensions that roughly match the XC60's, the Concept XC Coupe is in fact a big clue as to how the new XC90 will look when it debuts at the Paris Motor Show in September.
Thomas Ingenlath, Volvo design vice president, explained: "It brings us a bit closer to the all-new XC90. But it goes without saying that a three-row seven-seater will have a larger and fuller look than this four-seater. The Concept XC Coupe is more of a Cross Country version of a sleek sports wagon."
Significant styling cues are everywhere, including the floating grille, T-shaped LED elements in the headlights and a unique rear light signature. To give a classic SUV look, chunky side sills, 21-inch wheels and skid plates have been added at the front and rear.
Volvo has yet to release interior pictures, but we already know the XC90 will use an iPad-sized central touchscreen and feature an Android-based Sensus Connected Touch infotainment system that'll let you download apps straight to the car.
It should also be one of the safest models on the road, with a system that steers you away from barriers, an autobrake function that detects pedestrians in the dark and the ability to follow the car in front autonomously.
• Volvo XC90 2014 price and release date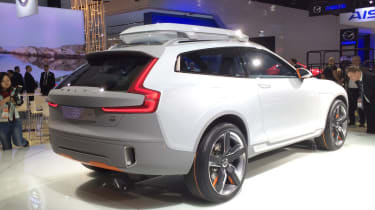 The arrival of the SPA platform, which will underpin everything from the S60 up, is a major step forward for Volvo. Even the seven-seater XC90 will use only four-cylinder 2.0-litre petrol and diesel engines. The most powerful petrol has a supercharger and turbo to produce 302bhp, while a hybrid version of the same engine will hit 400bhp with 600Nm of torque.
The XC90 isn't the only SPA-based SUV in the pipeline, either; a replacement for the XC60 could arrive by 2016, while Volvo CEO Hakan Samuelsson is keen on producing an even smaller XC40.
Volvo Concept XC Coupe vs Concept Coupe
As you can see in Thomas Ingenlath's sketches (in our gallery of pictures) Volvo's two latest concepts are more similar than they first appear. By translating his new design language into very different bodystyles he's managed to highlight common cues – such as the kink in the shoulder line and subtle upturn in the window line.
Ingenlath's philosophy is about enduring design: "You might not have the flashiest car for the first year," he told Auto Express, "But you'll have a classy car for the next eight years. The overall simplicity, both exterior and interior, has a strong connection to the Scandinavian lifestyle."
Editor in chief Steve Fowler takes a quick look around the new Volvo Concept XC