Video: exclusive tour of the new Volvo XC90
Auto Express editor-in-chief Steve Fowler takes you on a tour of the new Volvo XC90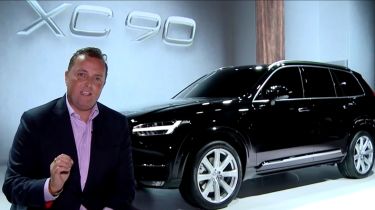 The new Volvo XC90 is out and it's been twelve years in the making. The previous generation debuted way back in 2002 but this latest model is more than just a new car. It represents the start of a whole new Volvo.
Volvo is now under the ownership of Chinese firm Geely, which has ploughed money into Volvo and left the Swedes to get on with developing their new range of cars. Underneath the new XC90 is the new SPA - or 'Scaleable Product Architecture'. It's a fantastic looking car with many firsts for Volvo, including this new platform that will underpin many large Volvos in the future.
There will only be four-cylinder engines in this new Volvo, too. There'll be no more V8s or five-cylinder engines, just four-cylinders and a plug-in hybrid which will be extremely efficient and powerful.
On the inside, the new XC90 will be great for gadget lovers. Volvo has certainly taken a step up in terms of quality, with a leather-topped dash and new leather seats - something Volvo is famous for.
Thanks to the new design, there's now more space inside. There will be seven seats on every British XC90, as well as sat-nav which is served through a fantastic system called Sense - a portrait nine-inch touchscreen system which is great to use. The car has Apple CarPlay and Android Auto so you can mirror what's on your smartphone. The new XC90 will also be available with a British-built Bowers and Wilkins sound system.
A lot of clever thinking has gone into the new XC90. For example, there's no more split tailgate which was sometimes more trouble because you had to lean further into the boot to reach anything.
The car will be in showrooms in May 2015, but they will be available to order from October. Prices start from £45,785 which is a step up from where prices are for the existing model.
If you really want to get your hands on the new Volvo XC90 fast, go for one of 1,927 First Edition models. These will be available to order online where you can choose your number.
All options will be selected on these launch editions, with the price coming in at £68,785. We'll wait and see if that's too much for a Volvo, but based on what we've seen so far - it could be a strong rival for the likes of BMW, Mercedes and Audi.
Check out the full specs, prices and details of the new Volvo XC90 here...