Goodyear UltraGrip Performance + review
Goodyear's UltraGrip Performance + tyre is clearly better suited to snow than wet weather, but it also did well in dry braking and had low rolling resistance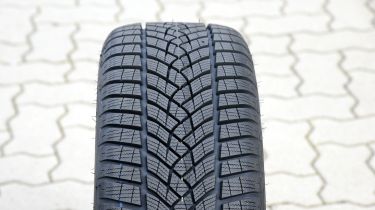 When we last tested in this size in 2019, Goodyear's Performance + was the victor, with six category wins and two seconds. There were no wins this time, but the results were close between it and the Michelin and Hankook.
When tested shortly after its launch in this size the UltraGrip was the snow master, but as we saw last year, it has been overtaken on the frozen test tracks. Results in the wet and dry were similar too, with mid-pack finishes across the tests.
Dry braking was a highlight and the handling was close to quickest. It felt good, too, with only a touch more lock needed than the best, and a decent balance. That was carried over to the wet, although the lap time was three seconds or so off the pace. It also had less bite than the Bridgestone or Hankook but felt secure.
Goodyear won't be happy with the wet braking result, where it was still doing 19mph when the Bridgestone had stopped. As we've seen before, the upside of these wet results is good fuel economy and the Goodyear was the rolling-resistance runner-up.
We say:
It could so easily have been a podium finish for this former winner, which looks as if it could do with further development to build on its initial promise.
Blackcircles.com says...
Customers have been impressed with this tyre, scoring an overall 4.8/5. Reviews often comment on wet performance, plus stability on snow and ice.
| | | |
| --- | --- | --- |
| Goodyear UltraGrip Performance + | | |
| Overall: | 97.00% | |
| Price: | £119.34 | |
| Snow braking: | 98.50% | 5th |
| Snow traction: | 97.30% | 5th |
| Straight aquaplaning: | 95.30% | 6th |
| Curved aquaplaning: | 97.3% | 2nd |
| Wet braking: | 85.4% | 8th |
| Wet handling: | 96.0% | 6th |
| Wet circle: | 95.3% | 7th |
| Dry braking: | 95.5% | 2nd |
| Dry handling: | 98.4% | 6th |
| Rolling resistance: | 99.6% | 2nd |
| Cabin noise: | 99.3% | 3rd |