Blind-spot mirror test
We test eight top blind spot mirrors to see which boosts visibility best...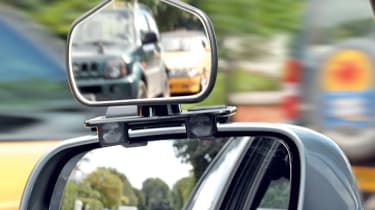 It only takes a split-second lapse of concentration to change lanes on a motorway and pull straight into the path of another vehicle. You might think it would be impossible to miss something as big as a car creeping up from behind, but blind spots catch out even the most careful of drivers.
Blind spot mirrors aim to cover the parts your standard mirrors miss, giving you a far greater view of what's going on behind your car. There's a wide range of options on the market, from large clip-on mirrors to simple stick-on products. Most use convex glass which, when angled in the right place, covers the area your standard mirrors don't pick up. Take time to make sure the mirror is positioned correctly when fitting the first time – especially if it's a stick-on product, as these lose their tackiness if you reapply them.
The test Each mirror was fitted to our test car, and we then measured the extra viewing angle in metres. Next, we took each product on a road test, which included a dual carriageway, and rated them for performance. We assessed the clarity of the fitting instructions, how long the mirror took to install and how well it was made. Security features, size and price were also taken into consideration.
Verdict
Simple, effective and easy to fit, the Summit Danger Zone Safety Mirror is an easy winner. It gave a very clear view of the road behind. In second place is the Carpoint Blind Angle Mirror, which provided a test-topping wide rear view coupled with a sensible price. Our final podium place is taken by the Magnum Frog Eye; while it's much more expensive than our top two, it's a great performer and ideal for professional drivers.