Michelin Primacy 3 tyre review
A competent and safe tyre. It's just a touch behind the best performers in our test.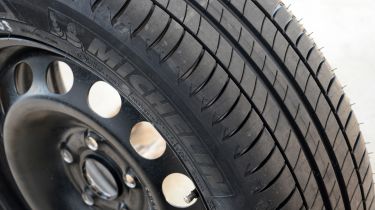 A competent and safe tyre. It's just a touch behind the best performers in our test.
Our results are so close this year, there's precious little between this Michelin and the Bridgestone in sixth and Continental in fifth. However, as the Primacy 3 was launched at around the same time as tyre labels were introduced, it's a step behind on fuel economy, with around a two per cent gap to the best.
It doesn't help that this tyre is the most expensive to buy by a big margin. But Michelin has trodden a careful line between wet grip and rolling resistance, which call for contradictory characteristics in a tyre. While the margin was not big on the wet handling track, this felt like a 10th place tyre – safe, but easily pushing wide on turns and lacking sharpness when changing direction.
This lack of front grip could also be seen on the wet circle, although the margin was small. And it was closer to the best on the flooded braking strip.
In the deeper water of the aquaplaning tests the Primacy 3 struggled a bit more, with eighth and ninth positions, but it wasn't too far behind the leaders. The tyre was happier in the dry – it finished fourth in the braking test and delivered better balance on the handling circuit. It demonstrated good front grip through the long sweeps with a little rear movement in tighter stuff to help turn our test Golf. It also showed well in the noise test, just fractions behind the winner.
So the Primacy 3 is a decent tyre, but in this competitive field, those small performance gaps across almost all tests add up to a disappointing seventh place.
| | | |
| --- | --- | --- |
| Price | £69.88 | |
| Dry handling | 99.20% | =5th |
| Dry braking | 98.30% | 4th |
| Wet handling | 96.60% | 10th |
| Wet braking | 97.40% | 4th |
| Wet cornering | 98.50% | 9th |
| Straight aqua | 94.80% | 9th |
| Curved aqua | 91.30% | 8th |
| Rolling resistance | 86.90% | 6th |
| Cabin noise | 99.30% | 4th |
| Overall | 97.50% | 7th |