Tyre test 2014: Results by category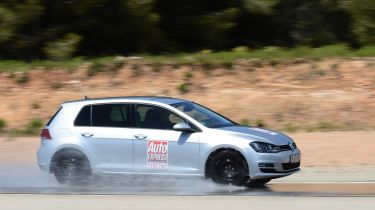 Going through the results, it's clear Goodyear and Dunlop have worked out how to combine good economy and strong wet grip. But our top two are not one-trick ponies: they are just at home in the dry, so they're worthy of their places.
Pirelli ends its less than impressive run of results, as its P7 Blue finishes in a strong third place. And Hankook sustains its progress in our tests with another fourth, just ahead of the tightly packed premium brands – Bridgestone, Continental and Michelin. No doubt they'll all be working to narrow the gap to Goodyear Dunlop.
Also looking to do better next year will be Vredestein, while Toyo will recognise that its ageing T1 Sport needs replacing in the face of the improving budget GT Radial.
Cabin noise
1=
Hankook
100%
1=
Pirelli
100%
3
Goodyear
99.40%
4
Michelin
99.30%
5=
Vredestein
99.10%
5=
Dunlop
99.10%
5=
GT Radial
99.10%
7
Bridgestone
99.00%
9
Toyo
98.80%
10
Continental
98.60%
Wet braking
1
Dunlop
100%
2=
Goodyear
98.30%
2=
Pirelli
98.30%
4
Michelin
97.40%
5
GT Radial
96.50%
6
Toyo
95.60%
7
Hankook
95.00%
8=
Continental
93.10%
8=
Vredestein
93.10%
10
Bridgestone
86.00%
Dry handling
1
GT Radial
100%
2
Toyo
99.40%
3=
Bridgestone
99.30%
3=
Dunlop
99.30%
5=
Michelin
99.20%
5=
Goodyear
99.20%
7
Continental
99.00%
8=
Hankook
98.90%
8=
Pirelli
98.90%
10
Vredestein
98.10%
Dry braking
1
Dunlop
100%
2
Pirelli
99.20%
3
GT Radial
98.70%
4
Michelin
98.30%
5
Hankook
97.80%
6
Goodyear
96.50%
7
Continental
95.80%
8
Toyo
94.40%
9
Vredestein
93.70%
10
Bridgestone
93.10%
Wet handling
1
Pirelli
100%
2
Goodyear
99.50%
3=
Hankook
99.30%
3=
Continental
99.30%
5
Toyo
99.10%
6=
Vredestein
99.00%
6=
Dunlop
99.00%
8=
Bridgestone
98.60%
8=
GT Radial
98.60%
10
Michelin
96.60%
Wet cornering
1
Hankook
100%
2
Pirelli
99.90%
3
Goodyear
99.80%
4
Toyo
99.20%
5=
Bridgestone
99.00%
5=
GT Radial
99.00%
7
Continental
98.80%
8
Vredestein
98.60%
9
Michelin
98.50%
10
Dunlop
98.00%
Straight aqua
1
Dunlop
100%
2
Hankook
99.90%
3
Bridgestone
99.10%
4
Goodyear
98.00%
5
Continental
97.60%
6
Pirelli
97.10%
7
Toyo
96.60%
8
Vredestein
95.60%
9
Michelin
94.80%
10
GT Radial
91.00%
Curved aqua
1
Bridgestone
100%
2
Dunlop
99.40%
3
Continental
98.20%
4
Hankook
96.00%
5=
Vredestein
95.40%
5=
Goodyear
95.40%
7
Toyo
93.80%
8
Michelin
91.30%
9
GT Radial
89.70%
10
Pirelli
87.30%
Rolling resistance
1
Goodyear
100%
2
Dunlop
96.10%
3
Pirelli
95.90%
4
Bridgestone
90.50%
5
Continental
88.10%
6
Michelin
86.90%
7
Hankook
83.30%
8
Vredestein
77.30%
9
GT Radial
63.50%
10
Toyo
62.30%
Price
1
GT Radial
£50.02
2
Hankook
£54.77
3
Toyo
£54.94
4
Bridgestone
£55.51
5
Vredestein
£55.83
6
Dunlop
£57.50
7
Goodyear
£59.14
8
Continental
£63.79
9
Pirelli
£64.78
10
Michelin
£69.88
Overall
1
Dunlop
100%
2
Goodyear
99.40%
3
Pirelli
98.90%
4
Hankook
98.70%
5
Continental
98.00%
6
Bridgestone
97.70%
7
Michelin
97.50%
8
Vredestein
96.70%
9
Toyo
96.40%
10
GT Radial
96.20%