Pirelli Cinturato P7 Blue tyre review
Pioneering tyre is ageing well, with only deep water grip letting it down in our test.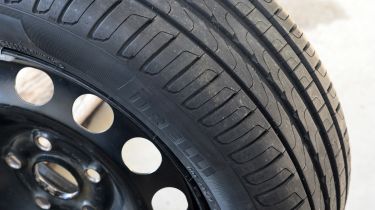 Pioneering tyre is ageing well, with only deep water grip letting it down in our test.
The holy grail in this era of tyre labelling is a double A rating – a tyre that's in the top bands for both wet braking and fuel economy. And the P7 Blue was the first production tyre to achieve this in some sizes back in 2012.
This version has slipped from A to B for fuel economy, but the way Pirelli's engineers managed to overcome the conflicting requirements of rolling resistance and wet grip still impresses.
The foundation of this tyre's third place finish is the fact it's one per cent behind our fuel consumption champion and less than a metre behind first spot in wet braking. And either way, this is a welcome return to the top for the brand after several poor results in our tests.
That shallow water grip could also be felt on the handling circuit, where the P7 Blue showed good traction – it didn't require much lock to get through the tighter turns. It felt alert and inspired confidence. The grip could be seen on the wet circle, too, where it was second. Deeper water was a challenge: in the straight-line aquaplaning test it finished sixth, but when those water-pumping channels are distorted in the curve, the tyre slumped to 10th, some way behind the winning Bridgestone.
Pirelli was second again for dry braking, but the tyre didn't feel so assured on the handling circuit – the steering was a little vague, lacking sharpness in the wet. The rear was kept in check, yet you had to wait in places for grip before applying more throttle. Still, like the Hankook, that softness was good news for cabin noise.
| | | |
| --- | --- | --- |
| Price | £64.78 | |
| Dry handling | 98.90% | =8th |
| Dry braking | 99.20% | 2nd |
| Wet handling | 100% | 1st |
| Wet braking | 98.30% | =2nd |
| Wet cornering | 99.90% | 2nd |
| Straight aqua | 97.10% | 6th |
| Curved aqua | 87.30% | 10th |
| Rolling resistance | 95.90% | 3rd |
| Cabin noise | 100% | =1st |
| Overall | 98.90% | 3rd |