Tyre reviews: best tyres 2014
Our Ultimate Tyre Test 2014-15 will help you to decide which are the best tyres to buy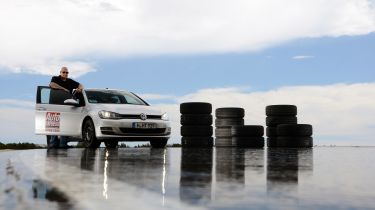 Choosing tyres has been made easier by compulsory performance labelling, but if you want the full picture on the top tyres to buy, you need this test.
Since 2012, tyre makers have had to test their products for wet grip, rolling resistance (key to fuel economy) and pass-by noise to set criteria, then publish the results in easy-to-grasp labels similar to those seen on fridges and washing machines. Yet here at Auto Express, we look at nine criteria, not three, including the more relevant cabin noise, and show results to a percentage point rather than the labels' broad bands.
While research shows UK drivers have paid less attention to labels than European motorists, they've had a huge impact on the industry. Our 2014 test is proof; we last rated the big-selling 205/55R16 size, found on many medium-sized family hatches and saloons, in 2012, and this year there's a host of new designs. Also new in 2014 is our proving ground, Applus IDIADA near Barcelona in Spain, where we headed with the help of Hankook – one of several manufacturers that develop their tyres there.
Auto Express drivers carried out all the tests apart from those requiring specialist skills, like aquaplaning. Proving ground staff did the cabin noise test and rolling resistance was measured at Hankook's Korean R&D base. And all tyres were bought in the wholesale market after makers nominated their most suitable model to ensure what we test is what you can buy.
So after hundreds of laps and emergency stops, which is the tyre you should choose?
• Winter tyres test: reviews and prices 2014
Tyre test 2014: what we tested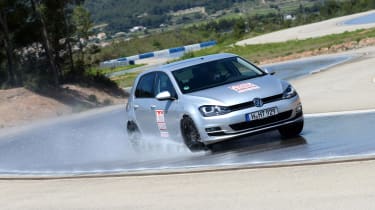 All tyres were the popular 205/55R16 size, with a weight rating (load index) of 91 or 94 and speed ratings of V (up to 150mph) or W (up to 168mph). Tyre label ratings are measured from A (best) to G (worst) on rolling resistance (RR) and wet grip (WG), with pass-by noise (N) in dB – the lower the better.
1. Dunlop Sport BluResponse 91 VRatings - RR: B WG: A N: 68
2. Goodyear EfficientGrip Performance 91 VRatings - RR: B WG: A N: 68
3. Pirelli Cinturato P7 Blue 94 VRatings - RR: B WG: A N: 72
4. Hankook Ventus Prime 2 K115 91 VRatings - RR: E WG: A N: 69
5. Continental Conti-PremiumContact 5 91 VRatings - RR: C WG: A N: 71
6. Bridgestone Turanza T001 91 V Ratings - RR: C WG: B N: 71
7. Michelin Primacy 3 91 VRatings - RR: C WG: A N: 69
8. Vredestein Sportrac 5 94 VRatings - RR: C WG: B N: 70
9. Toyo Proxes T1 Sport 94 WRatings - RR: E WG: B N: 71
10. GT Radial Champiro UHP1 94 WRatings - RR: E WG: B N: 72
Best tyres 2014 - how the test works
How we come to our expert verdict on 10 of UK's top-selling tyres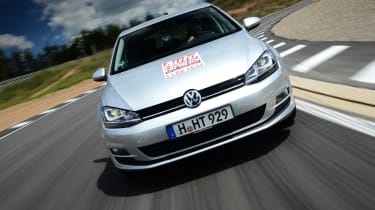 Picking our champion
We assess each tyre in nine categories, plus price. The winner of each test is rated at 100 per cent, with the rest scored relative to that, as each tyre's results table shows.
To ensure the differences in performance are fairly reflected, we weight the results when we add up the percentage scores. This means tests like rolling resistance – where the gap between best and worst-performing tyre can be huge – count for as much as dry handling, which can be very close. The exception is price.
Wet handling
The 1,500-metre IDIADA wet handling course winds through trees and sheer rock faces to really test tyres. The 1mm-deep wet surface combines fast sweeps, quick direction changes and off-camber bends with plenty of run-off. Our results are taken from an average of lap times.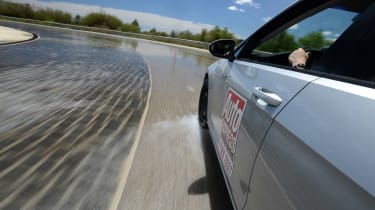 Wet cornering
On the 27.5-metre asphalt wet circle, a tyre's pure wet grip is revealed, without aquaplaning or traction playing a role. We accelerated, hugging the inner edge of the circle, until the nose started to push wide. We timed up to 10 laps, taking an average to get a final verdict.
Wet braking
More than 100 emergency stops made up this test, which measured the distance taken to slow from 50mph to 3mph, eliminating the variations in the last few metres of coming to a halt. The ABS was triggered each time, and again we calculated an average to reach a verdict.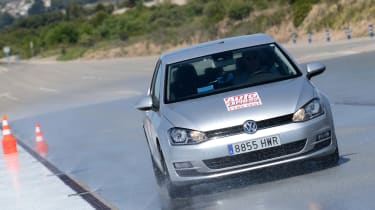 Dry handling
IDIADA's dry handling circuit gives tyres a work-out with long sweeps that reveal any lack of balance or response. There are tighter turns, plus elevation changes to keep drivers working. Our result is based on lap times, and as in all the track tests we used a control tyre to monitor changes.
Dry braking
Our dry braking test requires fewer stops than in the wet as results are more consistent – but we still did close to 100. We entered the braking strip at around 65mph, hit the brakes and measured from 62mph to 3mph. Extreme results were eliminated and an average taken of the remainder to find a winner.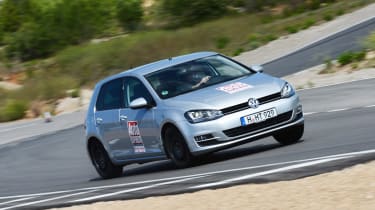 Straight aquaplaning
Our wet braking test is performed in 1mm of water, but aquaplaning is done in around 6mm. It measures the speed when the tyre can no longer clear water under the tread. Under hard acceleration, the speed where the driven front wheels spin 15 per cent faster than the rear is measured. An average gives the result.
Curved aquaplaning
As with the straight aquaplaning test, this rates a tyre's ability to pump water from under the tread, but this time with the grooves distorted by cornering. A g meter is used to measure the loss of grip as the car is driven through a corner flooded to 6mm at ever higher speeds.
Rolling resistance
Our tyres were shipped to Hankook's R&D centre in South Korea for this test, which is key to fuel consumption. Done to industry standards, it measures how easily a loaded tyre rolls. The lower the resistance, the less fuel needed to move it along the road. As a rough guide, a five per cent cut in rolling resistance gives a one per cent drop in fuel consumption.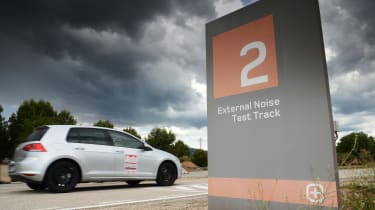 Cabin noise
While tyre labels' pass-by noise test is helpful for the environment and those living near busy roads, it has no direct link to cabin noise, which is a major concern for many motorists. Our test measured noise at driver's head height when running on rough and smooth tarmac, with an average taken again.
Price
This played a minor role in the overall ranking, as tyres are safety items. But online retailers have transformed the way drivers buy tyres, allowing quick price comparisons – and our prices were from lovetyres.com, recommended in our Issue 1,334 test. They are what it charges or what it would charge if it sold the tyre. It's a mail order service, so add around £13 for delivery and fitting.