GT Radial Champiro HPY review
Needs to continue progress towards standards set by European producers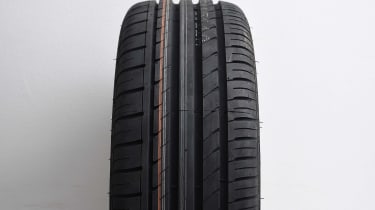 Needs to continue progress towards standards set by European producers
GT Radial debuted in our test of 17-inch tyres two years ago, and demonstrated the progress made by Chinese brands in the tyre labelling era. Sadly, it seems there's been little change since, with the Champiro HPY finishing pretty much where it did back in 2013.
It felt best on the dry handling strip thanks to a sharp turn-in and rapid direction change. The tyre was under a second off the best, although it struggled to repeat that performance on the braking strip, where it needed three metres more to stop than our winner.
That good front end grip worked against the Champiro on the wet circuit, where it all too easily overcame the rear. It was all progressive and no problem to catch, but not what you want on a wet roundabout. The tyre was a long way off the best in the deeper water of the aquaplaning tests, although the trade-off for this lack of wet grip was good fuel economy. The GT Radial was towards the front of the pack behind our top two.
| | | |
| --- | --- | --- |
| Price | £81.33 |   |
| Dry handling | 98.40% | 6th |
| Dry braking | 92.70% | 7th |
| Wet handling | 94.10% | 9th |
| Wet braking | 87.00% | 8th |
| Wet cornering | 96.30% | 8th |
| Straight aqua | 88.50% | 11th |
| Curved aqua | 68.20% | 10th |
| Rolling resistance | 78.80% | 4th |
| Cabin noise | 96.10% | 10th |
| Overall | 94.10% | 10th |