Hot new Alfa Romeo Giulietta 'could use 4C engine'
A new Alfa Romeo Giulietta could use the all-aluminium engine from the 4C coupe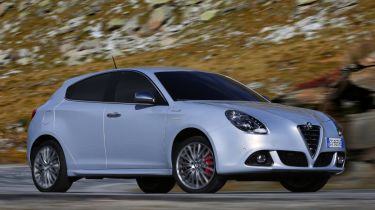 Alfa Romeo is keen to capitalise on the success of its new 4C sports car and it plans to spread the new engine technology across the range to power a new hot hatch version of the Alfa Romeo Giulietta - which could even be badged 'GTA' but would replace the current fastest model in the line-up - the 232bhp 1750 TBi Cloverleaf.
Speaking to Auto Express at the launch of the revised model year MiTo and Giulietta, European head of Product Marketing Alberto Cavaggioni told us that "There is no need for a bridge to close the gap between cars like the Giulietta and 4C, the technology on the 4C is all our own, we are proud of it and mean to use it more."
The 4C uses an all-aluminium engine that is the same capacity as the one in the current Cloverleaf but is 22kgs lighter, uses direct injection technology and produces slightly more power and torque at higher maximum revs, so with some other minor modifications it could cut the 0-62mph time to less than 6.5 seconds.
This new model is also likely to make use of the six-speed TCT dual-clutch gearbox from the 4C as well, which although it adds weight will make for faster shift times than the six-speed manual in the current car. However a manual version seems unlikely given that the brand has stated that it has no plans to produce a manual 4C.
Cavaggioni also revealed that he had recently been testing a "powerful new prototype" at the brand's Balocco test track and had conducted comparison tests with the Mercedes A45 AMG and Audi S3, suggesting that this car could have even more than the 240bhp it produces in the 4C to compensate for the extra weight of the body.
He assured us the brand was "very busy working on the future models of Alfa Romeo" but remained tight-lipped on specific model details, however he did confirm that the 4C would be upgraded and tweaked regularly to keep demand as high as possible, and implied that a significantly revised version (possibly with even lighter weight) could appear as early as next year. "You need to keep changing things, hopefully the high demand we have at the moment will last," he said.
Finally, Cavaggioni also said that Alfa were keen to try and better expoilt the brand's heritage and values to appeal to a new range of customers who might not have any prior knowledge of the company's history. He said that as the customers they wanted to target "would never buy a new leather jacket - they want to wear something vintage" and expressed the desire to infuse the new range of cars with the kind of retro appeal that made the current Fiat 500 so popular.