Alpina reveals new B7 super saloon
German tuner creates BMW 7 Series-based limousine with 205mph top speed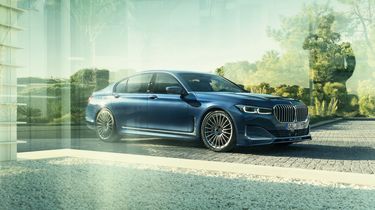 Long-standing BMW tuner Alpina has turned its attention to the freshly revised BMW 7 Series, and while the shock of the huge grille has yet to die down, a 205mph top speed is a welcome distraction.
The performance comes from an Alpina-fettled version of BMW's twin-turbocharged 4.4-litre V8. Power remains at the same 600bhp and 800nm of torque as the old model, but tweaks to the turbocharger turbines, intercoolers and engine management system mean that the maximum torque figure is reached 1,000rpm sooner, covering a plateau between 2,000 and 5,000rpm.
Combined with BMW's xDrive four-wheel drive system, it allows the B7 to accelerate from 0-62mph in 3.6 seconds - one tenth quicker than before, and one tenth quicker than the V12-powered M760Li.
The smaller engine brings other benefits, too: the B7 weighs 145kg less than the M760 which, by limousine standards, should allow the Alpina to feel much sharper to drive.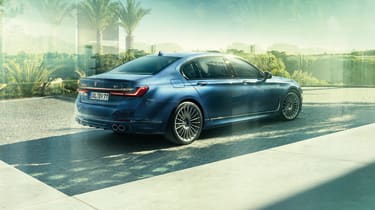 The revised engine is paired with BMW's eight-speed ZF automatic, albeit with specific software for sharper shifts under hard acceleration.
Alpina has applied its usual styling tweaks to the outside of the 7 series. The most notable modification comes in the shape of the 20-inch Alpina Classic alloy wheels, wrapped in Michelin Pilot Super Sport tyres. Forged 21-inch items are also available, reducing unsprung mass by 20 per cent.
Elsewhere, the B7 takes the standard 7 Series body and adds a deeper front splitter with 'Alpina' lettering, a subtle lip spoiler around the back, and a rear bumper that houses four round tailpipes.
The exhaust tips sit at the end of a new stainless steel system which not only reduces back pressure, but weight too, while active exhaust flaps allow for a more vocal soundtrack in Sport mode.
Pressing the Sport button also alters the suspension's characteristics (a setup that features Alpina's own software with some Alpina-specific components), dropping the ride height by 15mm. At lower speeds, the ride height can be increased by 20mm (that's 35mm above Sport mode) for extra ground clearance.
Inside, the B7 can be trimmed in Alpina's endless leather and wood veneer options, while the digital instrument display features unique graphics.
UK prices have yet to be confirmed but the outgoing model cost £115,000.
Would you take an Alpina B7 over a standard 7 Series? Let us know in the comments below...