New Alpine A110 Tour de Corse 75 limited edition is a tribute to rally
Alpine's memorable performance at the 1975 Tour de Corse has spawned the A110 Tour de Corse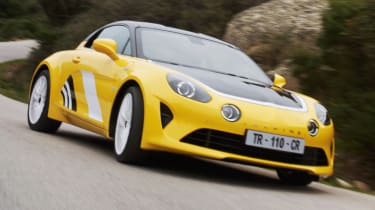 1/5
Alpine has one of the richest histories of rallying and its most famous rally car is the A110. Now, the French firm is paying homage to its icon with the limited edition A110 Tour de Corsa. 
The car is inspired by the Alpine A110 that competed in the 1975 Tour de Corsa - a standout event in the rally calendar. Just 22 of the 77 teams that entered the race managed to finish - highlighting the challenges the Corsican stages posed. Unfortunately, the A110 narrowly missed out to the Lancia Stratos on the last stage, but it won many fans along the way. 
The A110 Tour de Corse 75 aims to tap into this heritage with plenty of nods to the old rally car. Just like the original, there's yellow paint contrasting with a black roof and bonnet. Elsewhere, it features black and white 'Tour de Corse 75' graphics and on the rear there's a number 7 stamp – in reference to the original's numbering for the rally. 
18-inch gloss white Grand Prix wheels and orange Brembo brake calipers mimic the 1975 car and inside is more yellow with Sabelt bucket seats embroidered with 'Tour de Corse 75'. There's also an option to fit competition harnesses to add to the motorsport theme. 
The engine is the more powerful 1.8-litre, turbocharged four-cylinder, pumping out 296bhp and 340Nm of torque. This should give it a 0-62mph time of just over four seconds and a top speed of over 165mph. 
There will be just 150 units of the Alpine A110 Tour de Corse 75 produced and each one will feature numbered plaques from 1 to 150. The UK will receive just five examples with prices starting from £66,855.
Now read on about Alpine's hydrogen supercar