Aston Martin Vulcan owners receive track-day tutoring
Owners of stunning track-only supercar benefit from world-class racing tuition to make the most out of their purchase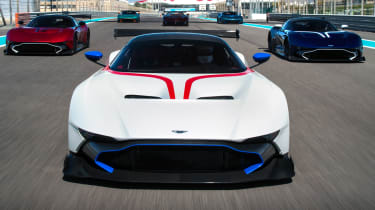 Bought an Aston Martin Vulcan recently? Unlikely, we know, as only 24 of these handcrafted supercars will ever be built, and with a price in the millions they're not exactly cheap. Yet an Aston Martin Vulcan has just become better value, thanks to a world-class tuition lesson from an elite team of racing drivers.
Every Vulcan owner will be given the opportunity to be coached in their very own car, as part of a two-year driver experience programme held at the Abu Dhabi Formula 1 circuit. The first session has just taken place with the coaching team is led by Aston Martin Racing works' driver, Darren Turner, who said:
"The priority of all of us on the team was to produce a car that provides immense enjoyment for the customers. Judging by the reactions we have seen this week, that goal has been achieved and surpassed."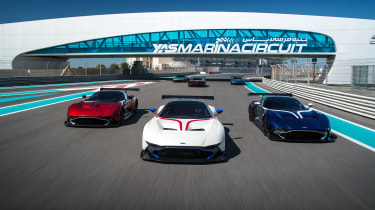 Every customer headed out onto the track in a V12 Vantage S road car, followed by a Vantage GT4 racing car – just as a light warmup! Once familiar with the iconic track, owners were let loose in their own Aston Martin Vulcans, and free to unleash the 800bhp from the 7.0-litre V12. Passenger-side tuition on every lap ensured the best results, while carrying on into the night allowed owners to experience different atmospheric conditions in their cars.
• Aston Martin Vulcan unveiled in Geneva
Director of Special Projects and Motorsport at Aston Martin, David King, said: '… Vulcan is a very special car and that is why we have developed a unique ownership programme. This includes specialist training so customers can drive it in the way it was intended.'
Aston Martin plans to train every Vulcan owner this way, and the team consider this initial group to be a great success. 'It has been a pleasure to see how quickly they have all got up to speed and to hear their first impressions of the car. I predict many fun track days ahead for these guys!'
A beautiful Aston Martin track day car plus expert tuition - worth £1.8 million? Let us know in the comments below...