Aston Martin Vantage N430 review
Special Aston Martin Vantage N430 celebrates the brand's racing success
On the face of it, the N430 looks like nothing more than a Vantage with eye-catching paint and a bit more power. Yet at £89,995 it undercuts the almost mechanically identical Vantage S by around £7,000. And while the Aston is feeling its age, its performance, agile handling and hand-built charm never fail to impress. The N430 could be a collector's item, too...
Fresh from its recent success at the Le Mans 24 Hours, Aston Martin has pulled the covers off another racy addition to its evergreen V8 Vantage line-up.
Following on from the N400 and N420 special editions, the Aston Martin Vantage N430 adds a number of motorsport-inspired touches to the exterior, an even more luxurious interior, a lower kerbweight and the beefier engine from the 
range-topping Vantage S.
The changes to the body are easy to spot, and run to graphite grey forged-alloy wheels, plenty of 
gloss-black detailing and distinctive contrasting colour stripes for the front grille surround and roof pillars. 
Inside, the N430 is enhanced by the addition of carbon fibre inlays for the sills and gear-lever surround, plus carbon/Kevlar seats trimmed in leather and Alcantara and embroidered with the N430 logo.
Step inside, and styling upgrades include the addition of graphite grey, forged-alloy, 10-spoke wheels, plus gloss-black detailing and colour stripes for the grille surround and roof pillars. Step inside, and the carbon and Kevlar seats are trimmed in leather and Alcantara and embossed with the N430 logo.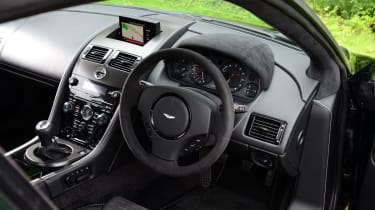 Despite the luxurious cabin finish, Aston has managed to shave 20kg from the V8 Vantage's kerbweight. In combination with the brawnier 430bhp 4.7-litre V8 engine, this results in a claimed 0-62mph time of only 4.8 seconds and a heady 190mph top speed.
As with the standard car, the N430 has a long throttle pedal travel and the powerplant responds lazily at low revs. However, once the rev counter needle swings past 3,500rpm, the acceleration becomes much more urgent and is accompanied by a spine-tingling bark from the exhausts.
Aston has constantly evolved the Vantage since its debut in 2005, but the two-seater is starting to show its age. Plenty of muscle is required for the steering, manual gearshift and clutch pedal, meaning cross-town commutes can become a chore, while the cabin design looks a little dated.
Yet on the open road the N430 comes alive. Its balanced rear-wheel-drive handling, strong grip and characterful V8 make every journey something to savour.