Audi "on the brink" of showing a fuel cell vehicle
German car maker poised to go into production with a new dynamic & efficient hydrogen-powered car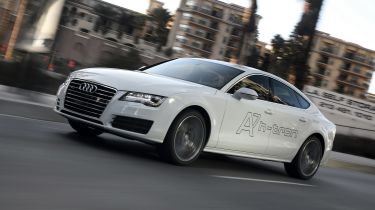 Audi bosses have confirmed they're "on the brink" of showing a new hydrogen car that is more dynamic, more efficient and that offers an even greater range than anything currently in production.
The undisclosed FCV was mooted at Audi's Future Performance Event in Madrid on Monday, though engineers are keeping tight-lipped on what bodystyle the production car might adopt.
It'll build on previous hydrogen-powered A2 and Q5 concepts, as well as the current Audi A7 h-tron prototype, which does 0-62mph in 7.9 seconds and can return a range of more than 300 miles. While it's never been offered in production form, it looks and drives just like a normal A7 – only quieter.
Dr Rene van Doorn, powertrain engineer for fuel cell technology, told Auto Express that Audi has four priorities for the immediate future, one of which is alternative drivetrains.
"Audi is poised to go into volume production with fuel cells as soon as the market and public infrastructure justify this move," they told us.
It'll form part of a 10-year plan, whereby Audi will electrify every model in its range, either with mild hybrids, full plug-ins or hydrogen fuel-cell vehicles. In 2016, a new 48-volt hybrid will be launched, with various innovations to improve the fuel economy and performance of petrol and diesel engines.
"We will not neglect development of our internal combustion engines," said Dr Rudiger Chmielewski, head of total vehicle development. "We will improve all types of fuel."
The 48V system uses an electric compressor to effectively eliminate turbo lag and boost efficiency by shutting down the engine when coasting. It can turn off the power at up to 15kmh, whereas the existing 12V system requires much lower speeds to cut out and save fuel.
Other tech showcased at the Audi Future Performance event included electronic dampers that effectively eliminate body roll, while also absorbing kinetic energy that can be used to power things like the MMI system and air-conditioning. Audi claims average recuperation is 150 watts (on German roads) – from three watts on a smooth motorway to 613 watts on broken roads. This translates to a CO2 saving of 3g/km.
Also of note was a new and innovative recycling system. The proposition takes batteries and converts them into stationary energy stores, providing charge for electric cars. The quick-charge station could offer an output of 250kW, compared to just 11kW for your average home charger.
Would you buy a hydrogen-powered car? Let us know below...