Next Audi A8 set to go all-electric
Audi looks set to take on the Tesla Model S with a zero-emission version of its next-generation A8 luxury saloon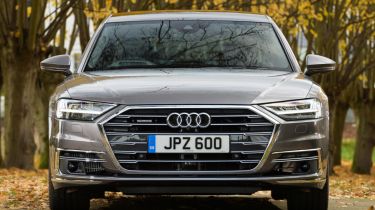 Audi is considering revolutionising the next A8 luxury saloon by offering it exclusively with fully electric power. Audi Chairman of the Board Bran Schot announced the plan at the brand's annual general meeting. 
Schot said, "The next generation of the Audi A8 might well be all-electric. That has not been decided yet, but I can well imagine it. We are thinking about revolutionising the top-end class with a completely new concept for the A8."
That revolutionising of the luxury segment will mean that it will beat Mercedes and BMW to the punch when it comes to building a zero-emission limousine, and offer buyers an alternative to the Tesla Model S.
The silent, smooth running of electric motors would be an ideal match for a luxury saloon, and the brand's e-tron SUV has already proven to give impressive refinement. Whether it shares that car's electric drivetrain remains to be seen: the e-tron uses a twin-motor set-up mated to a 95kWh battery, while its 5.7-second 0-62mph time aligns quite neatly with the performance offered by existing diesel A8s. The e-tron's 150kW fast charging facility means that a battery top-up from zero to 80 per cent takes around 30 minutes.
The A8's potential move to electric power aligns with Schot's aim for Audi to "set the pace for e-mobility suitable for everyday use". Should the A8 go battery-powered, it will be one of 20 electric Audis that are due on sale by 2025. Five of those are due by 2020.
The current A8 is offered with two plug-in hybrid models. The A8 55 TFSI e and 60 TFSI e offer 357bhp and 456bhp respectively, and an EV range of around 25 miles from a 14.1kWh battery.
Do you think luxury models should be all-electric? Let us know your thoughts below...