Audi A8 could get posher and longer to rival Maybach
Audi could rise to the challenge of the Mercedes S-Class and Maybach ranges with longer wheelbase versions of its A8, and maybe a coupe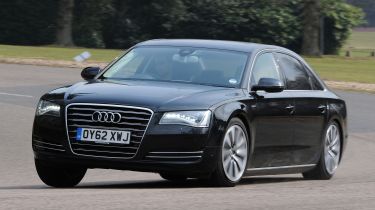 Audi is considering widening the range of its A8 flagship, in response to Mercedes-Benz's extension of the S-Class brand to include long-wheelbase and two-door coupe versions.
The A8 is currently available in just two guises - conventional and long-wheelbase. But one of its main rivals, the S-Class, is offered in these two set-ups and also a pair of even longer models, the Maybach and Pullman. Mercedes has also renamed the old CL-Class the S-Class Coupe, and recently started selling a convertible version of that model as well, taking the total S-Class family to six vehicles.
Speaking at the launch of Audi's SQ7, the company's new technical boss Dr Stefan Knirsch admitted that further, longer A8 derivatives are under discussion. "We are thinking about it," he said. "The success of the extra-long version of the S-Class has got us wondering about whether there could be a business case for that in the future."
Audi unveiled a six-door long-wheelbase A8 limousine earlier this year, but the company insisted that the vehicle was a one-off creation after a specific customer request.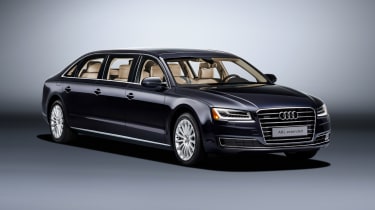 Knirsch also confirmed that the next generation of A8 will be fitted with the standardised SAE Level 3 of automation, where the driver can remove their hands from the wheel for longer periods of time and at higher speeds than at present. "We are working on the new A8 to introduce this new level of piloted systems," he said. Level 3 automation monitors its surroundings but still requires the driver to be ready to intervene. 
Currently, United Nations Regulation 79 restricts car automatic steering functions to speeds of up to 10km/h - but this block is expected to be removed later this year. "We're confident it won't be an issue by the time the A8 goes on sale," said Knirsch. 
Audi's tech chief was more guarded on the potential for an even more potent version of the Q7 carrying the RS badge. "We are only launching the SQ7 now and obviously we hope it will be a great success," he said, "but I don't know if it would make sense to have an RS version of this car."
Could an extra-plush Audi A8 win sales from Maybach, Bentley and Rolls-Royce? Let us know your thoughts in the comments below...