Fully-electric Audi R8 supercar confirmed
Audi says it'll keep building R-badged performance cars – but the replacement for the R8 will ditch petrol power for batteries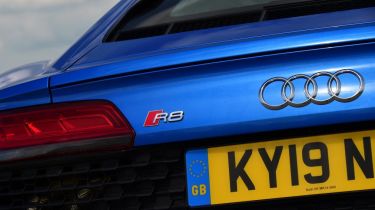 We're living in changing times. A big, multi-cylinder petrol engine is no longer the solution for ultimate performance, and more manufacturers are now looking to electric power for their flagship vehicles.
Lotus has already embraced electrification with the Evija, Porsche is charging ahead with the Taycan and even Ferrari says it'll launch its first pure-electric car in 2025. Now, it looks like Audi will become the latest brand to take the performance EV plunge.
Audi Sport's head of product, Linda Kurz, recently confirmed to CNET Roadshow that the successor to the R8 supercar will ditch petrol power in favour of a battery electric powertrain.
Kurz also said that Audi's challenge for the next decade will be to "transform the R segment" – and most of that transformation will involve pushing the company's performance arm into the pure-electric segment, to compete with new EV brands such as Tesla and Rimac as well as traditional carmakers moving into the sector.
Audi Sport has already set itself along this performance EV path, most recently launching the e-tron GT. The RS-badged model produces 637bhp, which makes it the most powerful Audi to ever enter mass production. We'd expect an all-electric R8 to push the boundaries of performance even further.
The company's electrification ramp-up will happen quickly, too. Previously, the brand has said that 50 percent of its performance models will feature some form of electrification by 2024 – and that number will increase to as much as 80 percent by 2026.
We haven't yet been told whether the R8 supercar will get a next-generation model, or if Audi will axe the nameplate in favour of something better suited to an EV powertrain.
However, for Audi to keep its branding consistent, it would certainly make sense for the firm to tack its "e-tron" badge onto its new pure-electric flagship. We expect the new supercar will also be a clean-sheet design, as it'd be hard to adapt the R8's platform to suit a pure-electric powertrain, which makes a new nameplate look even more likely.
For the time being, the 611bhp, V10-engined R8 will cling on to the halo spot in Audi's line-up, but the brand has already started making plans for its demise. It'll be pulled from showrooms in just two years time to make way for the firm's electrification charge.
Audi has previously dipped its toe in the water with an electric R8. In 2015 the company used the Geneva Motor Show to preview the R8 e-tron, a battery-powered version of the second-gen R8 which put out 455bhp and 920Nm of torque. It was axed after just a year on sale and 100 examples sold - primarily due to an astronomical starting price but also because Audi didn't promote the car a great deal.
Now click here to read about Audi's upcoming electric SUV, called the Q8 e-tron…