New Audi R8 ad banned by the ASA
Advertising Standards Authority claimed that the Audi R8 advert linked speed with excitement, going against motoring commercial regulations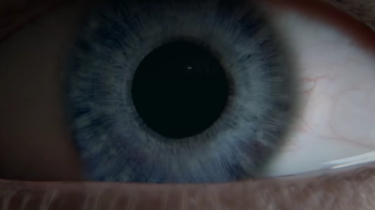 A new advert for the Audi R8 has been banned by the Advertising Standards Authority. The ad, which depicted an eyeball contracting and dilating as the supercar accelerated through its gears, was pulled after the authority declared it breached regulations. The decision was made after just a single viewer complained that the advert was 'irresponsible'.
• Car Advertising Campaign of the Year - New Car Awards 2016
Created by advertising agency Bartle Bogle Hegarty, the ad begins with a close-up shot of an iris reflecting the lights of a tunnel. It contracts and dilates to a soundtrack of the R8's naturally aspirated V10 roar. At the top of the rev range, it's replaced by soft piano music and a shot of the car slowly turning a corner. The end of the ad shows the car braking to a halt, accompanied by the words 'More focus. More drive' as well as 'The all-new Audi R8 V10 plus with carbon ceramic brakes'.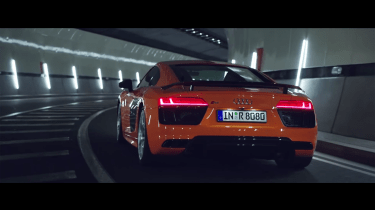 The ASA says that the ad shows an irresponsible depiction of speed – connecting it with excitement, and is therefore unacceptable and in breach of the code regulating motoring ads.
Audi's parent brand, the Volkswagen Group, disputed the claims. It said that the ad does not feature excessive speed as a message, and that the ad was shot at speeds below 30mph – with the movement of the eye signifying concentration and focus rather than excitement.
• Best car ads of the Superbowl 2016
Audi said in response that 'The ad was particularly intended to highlight the car's carbon ceramic brakes, the new, naturally aspirated engine, and the 7-speed S-Tronic gearbox.' It also claimed that the CGI eyeball was clearly fantasy as no eye would work in such a way.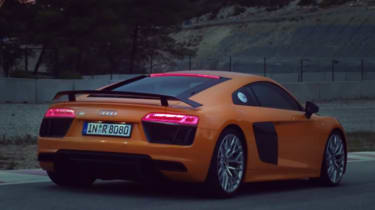 The ASA quashed Audi's appeal, though. It said 'We considered that viewers would interpret the changes in pupil size as an emotional response to the movement of the car, as represented by the sounds that were audible during the eye sequence.'
Audi's advert joins several other car commercials banned for similar reasons, including four from Jaguar and Honda's 'Keep Up' ad, which was pulled after just two complaints.
See below for some of our favourite Audi ads that didn't get pulled from the air in the UK…
Audi R8 Super Bowl - 'Commander'
Audi RS3 - 'Birth'
'The new Audi R8 V10 Plus'