Next Audi S8 to use plug-in hybrid power from Porsche
Powerful new Audi S8 models will use Porsche power, with a plug-in hybrid model based on Panamera PHEV
The new Audi S8, the hot version of the A8 limousine, is on the way - and it will use engines from fellow VW Group brand Porsche including a plug-in hybrid powertrain.
As the A8 is based on the same modular architecture as the new Porsche Panamera, it is able to use the same set of engines, and according to our sister site evo that means the S8 Plus model will become a high-power plug-in.
Currently the S8 and S8 Plus models use a 4.0-litre twin-turbo V8 with 513bhp and 597bhp respectively - but the new models will use a different 4.0-litre V8 unit, the one already seen in the new Panamera. In that car it produces 542bhp and 770Nm of torque, taking the Porsche from 0-62mph in 3.8 seconds. We expect a figure of around 530bhp for the Audi S8 and a 0-62mph time of about four seconds.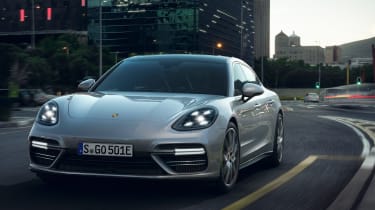 However the S8 Plus, which could get an e-tron moniker, will use the plug-in hybrid powertrain from the Panamera Turbo S E-Hybrid. That model gets an additional 136bhp coming from the electric motor, cutting the 0-62mph time down to just 3.4 seconds.
We expect a sub-four-second 0-62mph time and a 190mph top speed in the S8 Plus model, as the figures are likely to be tuned down a little for the Audi saloon. That still means around 630bhp in total and 800Nm of torque, though.
The S8 and S8 Plus haven't been announced yet, but we expect to see them arrive in early 2018 after the recently-revealed A8 goes on sale.
Now you've seen the Audi A8, are you excited for the S8 to be revealed? Let us know below!