Bentley Continental GT V8 S coupe 2014 review
Is the uprated Bentley Continental V8 S coupe as good as the five-star Convertible?
This brilliant coupe version of the Bentley Continental V8 S belies its size and weight with a level of performance and agility you'd expect of more focused sports cars – after all, this is still a GT that's a great cruiser. However, we prefer the slightly more relaxed, but still hugely fun, attitude of the Convertible.
We were blown away by the new S version of the Bentley Continental GT V8 S Convertible, and gave it the full five stars. So can the coupe version do the same?
The new Bentley Continental GT V8 S uses a twin-turbo V8 to provide its huge power output, and this new model is closer to the the 6.0-litre W12 model in terms of outright speed. The power figures aren't everything, however, with the car getting extra torque (up to 680Nm) and four-wheel drive as well - and it means the Bentley inspires huge confidence on the road.
Once again, it's amazing how what seem like minor tweaks to the chassis (lowered by 10mm with increased spring rates and revised damping) and a bit more power (up 21bhp) have given the GT a far sportier edge.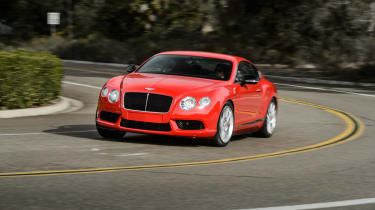 However, while weight is the enemy as far as performance is concerned, we prefer the slightly more tied down feel of the Convertible, which weighs 175kg more than this coupe. The ride of this car feels slightly more agitated (although it's still fairly plush), while the steering feels lighter.
The visual tweaks to the car include a font splitter, side skirts and a rear diffuser. Go for the Mulliner Driving Spec for quilted leather, 21-inch wheels and alloy pedals. But the real must-have is the sports exhaust – it's completely redesigned and makes the most glorious noise.
The interior gets an eight-inch infotainment screen and veneers sanded and lacquered up to 18 times - the leather seats are beautifully finished as well.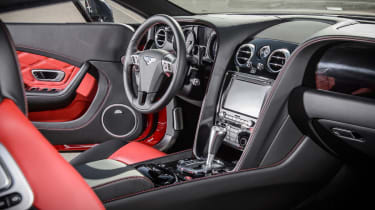 With economy figures of 26.8mpg and 246g/km of CO2, it's slightly more economical than the Convertible - but whether or not those figures are acceptable is up to the buyer. The boot's not massive, but it is much bigger than the boot in the Convertible, at 358 litres. The rear seats are pretty small, though.
Yes, the turn-in is a fraction sharper and the throttle response more instant, but in spite of the GT's new-found agility this is still a grand tourer first, and a sports car second. It does do that first bit better than any rival, though.