Used Bentley Continental GT (Mk2, 2010-2018) review
The long-established Bentley Continental GT has matured gracefully in cruising trim – or disgracefully in 700bhp Supersports guise!
Verdict
When it was launched, the second-generation Bentley Continental GT was priced from £135,000, yet you can now secure one for less than £40,000.
That might be the same money as a new mid-range BMW 3 Series, but don't go thinking you can run a Bentley for similar money, because the maintenance costs are very different. Tyres, brakes, insurance, tax and servicing add up quickly, so be realistic about whether or not you really can afford to run one of these magnificent beasts.
If you can, the Bentley is fabulous to drive, but this isn't a scalpel-sharp sports car; it's a fast grand-tourer that offers luxury and power in equal measure, even if those talents are ideally sampled only by two people, rather than four.
Which one should I buy?
Best Bentley Continental GT for driving purity: Continental GT V8S
Best Bentley Continental GT for equipment: Continental GT Speed
Best Bentley Continental GT for blistering performance: Continental Supersports
The V8 engine is significantly more frugal than the W12, while offering all of the power and refinement you're ever likely to need, but every Continental GT will cost plenty to run.
If you can, buy a V8 S. It's sharper to drive than the regular V8 car thanks to tweaked steering and suspension. The GTC fetches a significant premium over the coupe, but you'll get most of that back when you sell.
The Convertible offers fabulous refinement roof-up, and remains a superb cruiser with the top down. As standard, the Continental GT came with 20-inch alloy wheels, air suspension, bi-xenon headlights, leather, electrically adjustable heated front seats, a DAB radio, plus parking sensors front and rear.
What are the alternatives?
Just like the Bentley, the Ferrari FF and GTC4 Lusso came with eight or 12-cylinder engines, and offer four-seater usability with four-wheel drive security, plus shooting brake practicality.
The Mercedes S-Class Coupe and Convertible are luxurious, fast, refined and high-tech, while the Aston Martin DB9, DB11 and Vanquish put more of an emphasis on performance than practicality – much like the Maserati GranTurismo and GranCabrio, which are superb (if flawed) grand tourers. The BMW M6 doesn't have the Bentley's interior class but it's fast, practical and looks smart.
The Rolls-Royce Wraith is also luxurious, expensive and exclusive but, as with all of these rivals, the Wraith's talents may overlap with the Continental GT's – but ultimately the Bentley is in a class of its own.
Bentley Continental GT V8 vs Porsche Panamera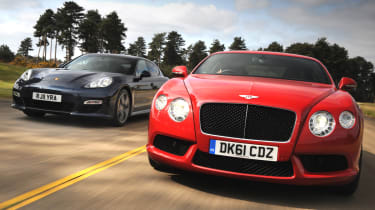 It was a tough job, but somebody had to test this pair of four-wheel drive, V8 performance cars. The then-new 500bhp Bentley Continental GT V8 faced the might of the 542bhp Porsche Panamera Turbo S, but there could be only one winner. We labelled the Porsche "a technological marvel", but this wasn't enough to prevent the Bentley from taking class honours. Read the full test here...