Bentley Continental GT V8 S convertible video review
The new Bentley Continental GT V8 S costs nearly as much as a Ferrari 458 - but is it better?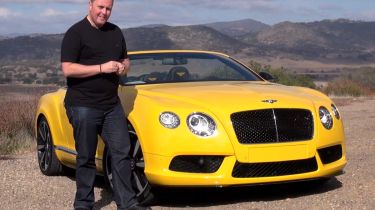 This the Bentley Continental GT V8 S, the very latest model from the firm. It costs about £9,000 more than the standard car, but what do you get for that? Well, there's 20bhp more, some black splitters at the front, side skirts, a new spoiler, new paint colours and a whole host of options.
The standard convertible version of the V8 S costs £152,900 and you can go for the coupe instead (at £139,000), but what about the car you see here?
• Bentley Continental GT V8 S coupe review
To start with, there's the Mulliner Driving Specification (that's £6,325), which gets you these lovely 21-inch wheels, some quilted leather inside, a knurled gear lever and alloy pedals as well.
There's also the dark tinted front and rear lamps (£1,300), this lovely yellow paint (£3,295), contrasting stitching (£1,425), carbon fibre facia panels (£1,225).
Adaptive cruise control (£2,045), a tracking system (£1,345), the Naim audio system (£5,475), the sports exhaust (£1,860) and some fantastic carbon ceramic brake discs (£10,405) are included as well.
That's a grand total of £193,000, but that puts it into Ferrari 458 territory. Can it match that sort of car on the road?
Under the bonnet is a glorious 4.0-litre twin-turbo V8 producing 521bhp - the engine itself is a work of art, with the twin turbos nestled neatly down in between the V for a lower centre of gravity, which means better handling.
Throttle response is great; this car will do 0-60mph in about 4.5 seconds and on to about 190mph. The handling is just solid, really high quality. The steering is responsive, not exactly 911-sharp but pretty impressive nevertheless, especially when you consider this car weighs the best part of 2.5 tonnes.
Plus, it's comfortable at all times and given the sporting intent of this car that's something very special.
Bentley says that around 60 per cent of all buyers go for the W12 model. Frankly, it's a bit unrealistic - it's spending money for the sake of spending money. We'd rather save a bit of money and go for this V8 S.
It's lighter, feels better, still makes a great noise and you'll save a bit of cash to spend on the options.
In fact, it's one of the best sports cars you can buy to drive on everyday roads in the real world. It may not be as electrifying to drive as a Ferrari 458 but for most people most of the time it's a pretty damn good sports car.