BMW and Mercedes put autonomous car partnership on hold
German firms had previously agreed to work together on Level 4 self-driving systems, plans that have been paused following a "mutual and amicable agreement"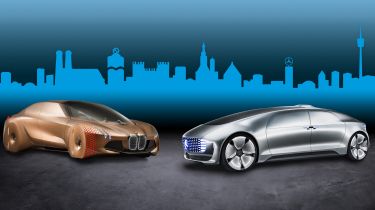 BMW and Mercedes have placed a joint project that would have seen them develop Level 4 autonomous cars "on hold."
The firms were collaborating on a programme of development for Level 4 self-driving systems, which were due to be made available to private customers from 2024. These plans are now paused, with the two companies going their own individual ways following "extensive review".
BMW and Mercedes are at pains to stress the decision to part company in this field was made with "mutual and amicable agreement", and they "may" resume their enterprise at a later date. Some 1,200 employees from the firms were working together on the project.
• Driverless cars: everything you need to know about them
A statement released by the companies said that "current business and economic conditions" meant that "the timing was not right" for the programme. The global slowdown caused by coronavirus has caused many firms to reconsider their development areas, while some companies have rowed back on or revised autonomous projects for other reasons.
Audi previously announced it was no longer aiming for Level 3 autonomy on the current A8 due to legislative and technological difficulties, while Ford has toned down its hitherto bullish expectations in the self-driving arena. 
Level 4 is considered to be a "high" level of automation, allowing cars to drive themselves when certain conditions are met. The cancelled BMW and Mercedes project was looking into developing cars that would be able to drive themselves on motorways and highways.
Level 5 is full, door-to-door automation, which works in all areas and conditions – although this was not within the scope of the firms' agreement, and some industry insiders have predicted full Level 5 is decades, not years away.
BMW board member Klaus Fröhlich said his company's "extremely powerful sensors and computing power" would put BMW "in an excellent position to offer our customers what they need for many years." Meanwhile, Mercedes' Markus Schäfer said: "we are currently also sounding out other possibilities with partners outside the automotive sector."
Do you think autonomous cars are the future of motoring? Let us know in the comments below...