Ford tones down self-driving car expectations
Ford CEO says company "overestimated" when autonomous vehicles will arrive; reveals expected limitations of driverless car due in 2021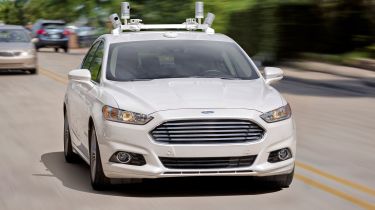 Ford has toned down its ambitious expectations for what self-driving cars will be capable of, with the company's chief executive cautioning significant limitations will affect Ford's first autonomous model, due to arrive in 2021.
Jim Hackett, CEO of Ford, said the company "overestimated" how soon autonomous vehicles will arrive on roads around the world and enforced doubts about how advanced the capabilities of the firm's first driverless car will be, Bloomberg reported.
• Autonomous cars will never exist says Waymo boss
"We overestimated the arrival of autonomous vehicles," said Hackett, speaking at a Detroit Economic Club event.
Continuing on to the topic of the autonomous vehicle due in 2021, Hacket said: "Its applications will be narrow – what we call geo-fenced – because the problem is so complex."
A geo-fence is a virtual perimeter generated for a real-world geographical area using GPS technology.
Ford has previously stated that its first autonomous car will operate without a steering wheel, accelerator pedal or brake pedal within geo-fenced areas as part of a ride-hailing scheme. Hackett's comments emphasise the fact the vehicle could be more limited in its capabilities than expected, though it remains to be seen exactly how so.
• Tesla drivers will be able to fall asleep behind the wheel by 2021, says Elon Musk
After voicing his doubts, though, Hackett went on to explain how revolutionary driverless cars will be in his view.
"When we break through, it will change the way your toothpaste is delivered," he said. "Logistics and ride structures and cities all get redesigned. I won't be in charge of Ford when this is going on, but I see it clearly."
"When we bring this thing to market, it's going to be really powerful. There's probably going to be alliance partners that we haven't announced yet that will make it more certain that we don't take on all the risks ourselves financially."
Would you like an autonomous car as your next car? Let us know in the comments below...