Tesla drivers will be able to fall asleep behind the wheel by 2021, says Elon Musk
Tesla boss says self-driving will allow Tesla drivers to fall asleep behind the wheel within two years - but authorities may disagree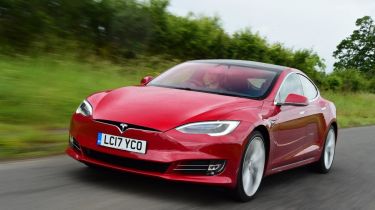 Tesla drivers will be able to safely go to sleep behind the wheel of a car and wake up at their destination within two years, according to Elon Musk.
The Tesla CEO and co-founder said the brand's autonomous technology will be complete by the end of 2019, and safe to operate without any human observation before 2020 is over.
• Autonomous cars will never exist says Waymo boss
Speaking as a guest on an Ark Invest podcast, Musk said the last steps on the path to full autonomy are "extremely difficult", but claimed with absolute certainty that Tesla's driverless car technology would be "feature-ready" by the time the year is out.
"I think we will be feature-complete, full self-driving this year," said Musk. "Meaning the car will be able to find you in a parking lot, pick you up, take you all the way to your destination without intervention this year. I would say I am certain of that, that is not a question mark."
He added: "However, sometimes people will extrapolate that to mean now it works with 100 per cent certainty, requiring no observation, perfectly – this is not the case."
Nonetheless, Musk said Tesla's self-driving systems would soon be good enough for occupants to sleep while the car drives itself: "My guess as to when we would think it's safe for somebody to essentially fall asleep and wake up at the destination? Probably towards the end of next year."
• Ford tests autonomous vehicle pedestrian safety system
Musk said he foresaw disagreements between Tesla and regulators as to when the firm's autonomous technologies will be safe to use.
"When will regulators allow us even to have these features turned on even with a human oversight?" he asked rhetorically. "That's a variable which we have limited control over; when will regulators agree that these things can be done without human oversight? That is another level beyond that." Musk called such considerations "externalities we don't quite control", and claimed, "the conservatism of regulators varies a lot from one jurisdiction to another."
• Autonomous cars could report drunk drivers to police
Musk then went on to make his comments about drivers falling asleep behind the wheel, saying: "That's when I would think it's most likely it will be safe enough for that. I don't know when regulators will agree."
Musk added that federal regulators in China and the USA are usually quite open to accepting Tesla's new technologies, while European authorities can be "a little conservative in this regard".
What do you think of Elon Musks claim about Tesla drivers being able to sleep behind the wheel? Let us know in the comments below...