BMW rows back on decision to charge Apple CarPlay subscription fees
Buyers of new BMWs with the latest OS7 infotainment software will receive an unlimited Apple CarPlay subscription as standard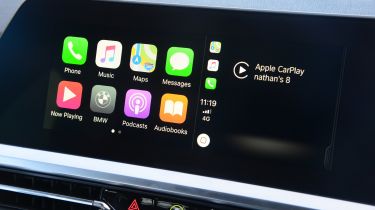 BMW has done a U-turn on its decision to charge subscription fees for Apple CarPlay on its latest models, a spokesperson has confirmed to Auto Express.
Drivers who purchase a new BMW fitted with the firm's latest infotainment software, OS7, will receive an unlimited subscription to CarPlay for free as standard.
Meanwhile, those who already own BMWs fitted with OS7 who have already purchased a one-year or three-year CarPlay package will be upgraded to an unlimited subscription at no additional cost.
Not all new BMWs come with OS7, though - the i3 and i8 are still fitted with the firm's previous-generation infotainment software, OS6, as are the outgoing 2 Series and 4 Series. Customers who purchase these models new will still be required to pay a fee of £235 for CarPlay.
Carmakers have to develop CarPlay software integration themselves, but Auto Express understands Apple does not charge licencing fees for the product.
In July 2019, BMW became the first carmaker to make Apple CarPlay a subscription service, with buyers having to pay a fee of £85 for a full year, £255 for three years or £295 for unlimited access.
At the time, the firm claimed the subscription-based model allowed it "to keep the initial cost price of the vehicle down since not everyone will use CarPlay, but at the same time for those that do, they have a flexible offer structure after the initial year's subscription has expired."
CarPlay is designed to offer a near-handsfree experience for drivers, with the car's infotainment screen mirroring many aspects of an iPhone's functionality - bringing apps such as Spotify and Google Maps into the car's built-in screen, and making them accessible via voice commands.
Would you pay for Apple CarPlay? Let us know in the comments section below...