'The new BMW 3 Series will make saloons trendy again'
Saloon cars have taken a back seat during the SUV sales boom, but not for much longer believes Steve Fowler…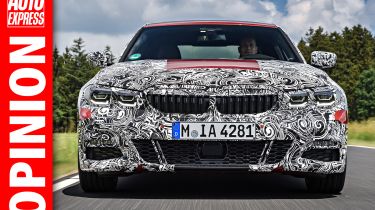 With SUVs dominating more and more buyers' thoughts these days, the good old saloon car has taken something of a back seat.
Sales of traditional 'three-box' cars have tumbled, with the D-segment that covers everything from the Ford Mondeo to the BMW 3 Series propped up by sexier five-door versions like the Audi A5 and 4 Series.
• New BMW 3 Series prototype review
But the saloon car is about to make a comeback, and not only because of the arrival of an all-new 3 Series – still a crucial big-seller for BMW.
A couple of months ago I was at the unveiling of a new challenger to the 3 Series: Volvo's S60 – a great-looking car in anybody's eyes. While I was there I got some interesting insight into the future of the saloon car from Volvo CEO Håkan Samuelsson.
His view was that there was an increasing buzz around saloons from younger buyers. These were people who'd grown up with their parents buying SUVs. And, as he told me, most young people tend to avoid doing exactly what their parents did. That's something I can totally understand.
It's a similar story with hatchbacks. Witness the incredible reaction – especially among young people – to Honda's Urban EV concept at last year's Frankfurt Motor Show. It's a cute, but thoroughly modern, take on the three-door hatch; reaction was so good it'll go on sale next year.
There are much more than just cyclical fashion trends at play here, though. As our first drive in a prototype 3 Series reveals, the amount of tech on board the new BMW is also likely to sway buyers. That and the fact that it's still fantastic to drive.
What sticks out for me is the combination of a plush ride with sharp handling; the two used to be rare bedfellows. The fact you can now get both is great news for car buyers of all ages.
These are the best best executive cars on sale...