BMW 435i Convertible 2014 review
New BMW 4 Series Convertible is bigger than before, but is it better? We drive top-spec 435i petrol car
The new BMW 4 Series Convertible, like the Coupe, takes a tangible step forward in terms of refinement and comfort. It's a classy car with more room inside than before, plus a bigger boot, as well as some clever new touches to set it apart from the 3 Series. It's not particularly sporty, though, thanks to an extra 230kg of weight compared to the 4 Series coupe, so we'd avoid the 435i and go for the cheaper 428i or 420d.
The new BMW 4 Series Convertible is being referred to as a "fifth generation premium convertible". That's correct if you count the four previous generations of 3 Series Convertible, but this is the first to be called 4 Series. Like the 4 Series Coupe, it's distinguished from its predecessor by a new body that is longer, wider and lower than before - in an attempt to make it look both sportier and more elegant, according to its designers.
It retains the old 3 Series' three-piece folding hard-top, which slides away gracefully in about 20 seconds, and while you're trundling along in traffic at speeds of up to 11mph. We think the design is better resolved this time around, and overall it looks more attractive, with the roof up or down, than its predecessor.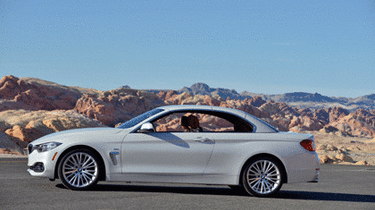 BMW has made improvements throughout to enhance the car's usefulness, too. While boot space is still restricted with the roof down, it's larger than before, varying from 220 litres to a generous 370 litres with the hood folded, and it's accessed via a large opening behind the fold-down rear seats.
Owners can also lift the whole roof mechanism hydraulically at the touch of a button when it's folded away, giving easier access to the luggage. Neatly, the wind deflector (which can only be used when there are no passengers in the back) folds and slots into the rear seatback when not in use.
Also new is a neck warming function, called Air Collar, in the headrests of the front seats. This is a reasonably priced option, at £360, and offers three modes, although even in the highest setting, the warm breeze will be no match for chilly spring temperatures in Britain.
At launch, there's a choice of two petrol engines and one diesel, shared with the 4 Series Coupe. The entry-level Convertible is the 181bhp 2.0-litre 420d diesel, while petrol options comprise the 242bhp 2.0-litre 428i and a top-spec 435i, with a 302bhp 3.0 straight-six turbo.
Yet while our 435i test model promises strong performance – 0-62mph in 5.5 seconds is fast by any measure – it wasn't as sporty as we'd expected.
BMW's chassis engineers have clearly focused their attention on the ride comfort and refinement, and in these departments the car eclipses the 3 Series Convertible. The trade-off, however, is that it's not as sharp along a back road – although it's hardly all at sea.
The big change is that the car doesn't encourage its driver to push on, preferring to cruise around than corner hard. Sure, there's a satisfying urgency to the power delivery, especially when you select Sport or Sport+ modes, but it's almost too smooth to be exciting. And the exhaust note is distant, even with the roof down and the revs climbing.
So if you want petrol power, we'd go for the more efficient 428i. It still claims 0-62mph in 6.4 seconds and promises average economy of over 40mpg, while you can spend the £5,315 you save on the price on some choice extras – such as the brilliant eight-speed automatic gearbox (a £1,690 option). If you don't mind a diesel, the 420d Convertible, with its near-60mpg economy, is difficult to ignore.