BMW M4 vs Audi RS5: video track battle
We test the new BMW M4 against the benchmark fast coupe, the Audi RS5, on track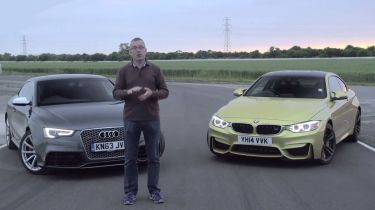 The arrival of a new BMW M car is always big news for performance car fans, and the new M4 is no exception.
The replacement for the legendary old BMW M3, the M4 has moved away from the V8 power plant in the old car and is now powered by a 425bhp twin-turbo straight-six engine.
Meanwhile, the Audi RS5 is propelled by a 4.0-litre V8, which produces 430bhp, mated to the Audi quattro four-wheel drive system. Like the BMW, it also features a dual-clutch gearbox, the Audi S tronic system.
There's no denying the Audi lacks the fun factor of the BMW - the quattro four-wheel-drive system prevents the lurid powerslides than you can really go for in the M4. You can also feel the weight of the engine over the front axle in the RS5, but it certainly doesn't feel slow at all.
Overall then, the RS5 feels very punchy, and the gearshift is also really nice - the same can be said for its V8 soundtrack. It's not a track machine though, and the car is more of a very stable and very rapid cruiser.
Meanwhile, the BMW M4 feels very raw and very serious, especially when all the settings are put at their sportiest using the switch on the steering wheel. This also turns the traction control and stability control off.
With no electronic aids, the M4 is always trying to get its tail out. The body control is amazing, but there is a feeling that it's all a bit artificial. The same can be said for the engine note, which has been enhanced.
The M4 is a proper M car though, and something BMW can be truly proud of. It set a lap time of 1m09.9s, compared to the 1m12.2s set by the Audi - that's 2.3s quicker.