BMW M4: 1,000-mile road trip video review
Video: Mat Watson takes the new BMW M4 on a 1,000-mile road trip to really put it to the test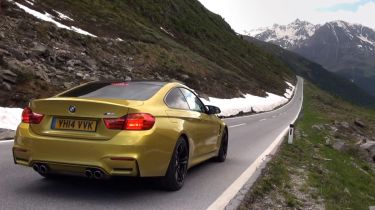 The new BMW M4 is an important new model for car enthusiasts. It's the first time the coupe version of the M3 has been given its own model name, and it gets turbo power for the first time.
To find out if it's worthy of M-car status, we took it on a 1,000-mile road trip from Austria back to Britain, via the Nurburgring and a few desrestricted autobahns. Watch the video above to find out if the new turbo engine makes the right noise, if the car is fast enough to keep up with the opposition, and if the M4 will cosset us back along the long motorway sections of European road trips.
Glance at the stats and you'll struggle to find anything to criticise about this downsized 3.0-litre six-cylinder turbo engine. It produces its maximum torque of 550Nm (that's 150Nm more than in the V8) between 1,850rpm and 5,500rpm, and from that point right up until the lofty 7,300rpm red line the engine delivers its peak power of 425bhp (11bhp up on the V8).
Instead of wringing out every last rev, you end up enjoying the masses of torque in the mid-range – it's easily accessible, it's flexible and it feels like a much more relaxed car when you're just cruising. Let's not forget that it's blisteringly fast and relatively frugal, too, promising 0-62mph in 4.1 seconds and 34mpg.
It can be very comfy and relaxing – helped by the superb M sports seats 
– yet if you want, it will transform into a thoroughbred sports car, which is exactly what an M car should be.
It's been stiffened in various places so the M4 is 35 per cent more rigid than the 4 Series on which it's based. This, plus rear subframes which are bolted to the body without bushes, give the car a precise feel. Weight-saving measures like the carbon roof, aluminium bonnet and carbon fibre-reinforced 
plastic bootlid boost agility further.