BMW 7 Series (2002-2008) review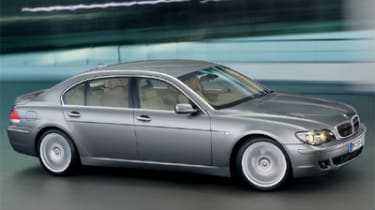 They say that all publicity is good publicity, but in the case of the BMW 7 Series that's open to question. Since its launch it's been the recipient scathing criticism, about both its styling and the iDrive control system. Recent styling changes have softened the impact of its looks and the iDrive has been tweaked, too. Certainly, if you want road presence, then the big 7 has it in abundance, and it seems that despite that early criticism of the styling the 7 Series has been a hit with the buyers, it being the most successful flagship to date.
Part of its appeal is that it really is a pleasure to drive. Easily one of the best cars in its class for driver involvement, the steering is light and direct, the acceleration never anything less than ample. The ride and handling are as tight and responsive as you'd expect from the Bavarian marque. Powered by a choice of 3.0-litre six-cylinder petrol and diesel engines, 4.0 and 4.8-litre V8s petrols, and, of course, the flagship 6.0-litre V12. There's a long-wheelbase version too, should you consider yourself important enough to warrant the extra space. The six-speed automatic shifts imperceptibly, the interior feeling typically BMW solid, and ergonomically sound. A capable and enjoyable executive car that's silenced critics by being a sales winner, and deservedly so.
Engines, performance and drive
0
MPG, CO2 and Running Costs
0
Interior, design and technology
0
Practicality, comfort and boot space
0
Next Steps
Which Is Best
Cheapest
Name

730d MHT 4dr Auto

Gearbox type

Semi-auto

Price

£69,510
Most Economical
Name

745e 4dr Auto

Gearbox type

Semi-auto

Price

£77,560
Fastest
Name

M760Li xDrive 4dr Auto

Gearbox type

Semi-auto

Price

£138,670