"The new BMW 7 Series is possibly one of the ugliest cars I've seen"
While editor-in-chief Steve Fowler is not a fan of how the new BMW 7 Series looks from the outside, he thinks it's a different story once you sit inside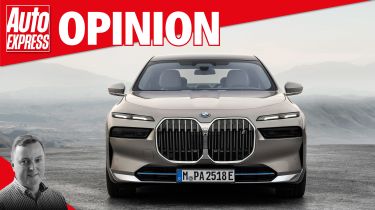 I'll be honest, here: the new BMW 7 Series is possibly one of the ugliest cars I've seen in a very long time. There, I've said it. I know there will be plenty of people who disagree – do let me know what you think – but I just can't see this one growing on me at all.
BMW has been building up to it with the over-grilled 4 Series and iX, but I'll admit that I'm coming to terms with the former's stunning proportions, if not its face, while the iX's pioneering tech forgives its visual sins. Yes, the 7 Series above is the all-electric i7, too, but in my eyes the front, side and back just don't work as a whole.
However, step inside and it's a different story; the 7 Series is gorgeous – beautifully detailed and with well integrated technology. As well as the driver display and infotainment screens, there are screens in the rear doors and a giant 31.3-inch 'BMW Theatre Screen' that drops down from the ceiling. It's all supported by a 36-speaker system from British audio specialist Bowers & Wilkins.
I already know I'd be happy to spend many hours in the back of the 7 Series, and will probably really enjoy the drive, too; BMW has never disappointed on that score.
In some ways, the new Seven reminds me of the Ford Scorpio of the 1990s: challenging on the outside, but really nice on the inside. Of course, BMW has had other 'interesting' vehicles in its past – remember the E60 BMW 5 Series, created by maverick designer Chris Bangle? Its bodywork slashes and sharp angles, called 'Flame Surfacing', caused much consternation. But Bangle was brilliant – the car has aged superbly and almost two decades on, it still looks contemporary.
Need to get over the new 7 Series? you take a look at Ferrari's 296 GTS – a truly drop-dead gorgeous drop-top. Ferraris just seem to get prettier and prettier these days, and even the F1 team is back to winning ways. Things are looking seriously good for the Prancing Horse.
Click here for our list of the coolest cars ever revealed...