BMW i3 vs Suzuki Swift Sport track battle video
We take the BMW i3 out of its natural urban environment and pit it against the Suzuki Swift Sport on the track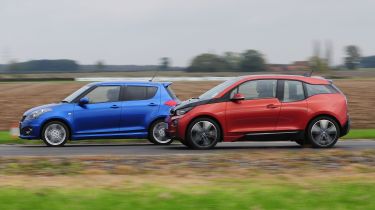 The BMW i3 is hot property at the moment and is one of the most desirable cars currently on the road - we even have one on our long-term fleet. We wondered how it would get on if we took it away from its natural urban environment, though. So, we took it to our test track. After all, it's rear-wheel drive and wears a BMW badge. 
To go up against it, we lined up the Suzuki Swift Sport - a traditional front-wheel drive hot hatch with a four-cylinder 1.6-litre engine putting out 134bhp. It'll hit 60mph in 8.7 seconds. In comparison, the tech-fest BMW i3 produces 168bhp from its electric motor and will reach 60mph in 7.9 seconds. It costs twice as much as the Suzuki, so how do they match up on the track? 
The two cars are very different on the track. You can tell the BMW is rear-wheel drive but the stability control keeps things in check. Don't expect it to drive like other BMWs either, as there's obviously a decent amount of body roll and it has very skinny tyres. Therefore, you have to drive it accordingly. It's also completely silent, which makes for a very different track experience. 
The Suzuki is very different. It has a revvy engine and you can use the engine braking through the gears when you come to a corner. It really is a textbook hot-hatch and you can be a lot more aggressive on the brakes and through the corners than the i3. 
The Suzuki beat the BMW by quite a margin in the end. The two cars couldn't be more different, but they're both enjoyable to drive on a track. The Suzuki Swift Sport is fantastic to drive around a track, but that isn't the whole story. Taking the BMW i3 out of its natural environment proves just how well engineered it is and that there's real pleasure to be had from driving it.