New BMW Vision M NEXT shown at Frankfurt Motor Show
The BMW Vision M NEXT hits Frankfurt with 592bhp and an all-electric range of 62 miles
This is the BMW Vision M NEXT, and it's yet another concept from the brand previewing an upcoming electrified car. In this case, it shouldn't take long to work out what this new concept hints at: it's our first look at the model set to replace the i8 hybrid sports car early next decade. It will sit at the top of a new-look electrified range that's launching with the iNEXT large SUV in 2021.
Like the i8, the Vision M NEXT combines electric and small-displacement petrol power in a plug-in hybrid configuration. A supercharged four-cylinder engine is used alongside an electric front axle, giving a total power output of 592bhp. BMW claims a top speed of 186mph and 0-62mph in three seconds. Its battery capacity and tech have not been detailed, but a range of up to 62 miles on electric power is claimed.
According to Klaus Fröhlich, Member of the Board of Management of BMW AG for Development, the step up in electric power is so great that even in EV mode, the Vision M NEXT has more power than the combined electric/petrol 369bhp offered by the outgoing i8. That means that both the front and rear mounted electric motors each produce around 200bhp. Beyond this, the four-cylinder petrol will add over 250bhp, too. An official weight is still to be confirmed, but Fröhlich stated that it would tip the scales at "between 1,600 and 1,700 kilos".
The jump in power is just one aspect of how performance is set to step up in the i8's replacement. Though it can't be seen in the pictures, the car's underbody features much more advanced aerodynamcis. So while drag will increase, downforce will be significantly higher - despite the car's sleek shape on top.
The i8 is now six years old, but this new concept suggests that BMW won't play with the car's image too much. The side profile of the Vision M NEXT bears a striking resemblance to the i8 as it is today, and it retains the current model's 'floating' C-pillars and butterfly opening doors.
However, the front end takes on BMW's latest design hallmarks, with a far more angular profile and much larger kidney grilles. Inspiration has also been drawn from the iconic M1 supercar at the rear, with a large slatted window covering the mid-engined layout, and a pair of BMW roundels at the rear corners of the car.
There are 21-inch wheels up front, while larger 22-inch rims are fitted at the rear. This difference in size is intended to emphasise the car's sporty shape and low-slung nose. Tyre widths are significantly increased relative to the current i8 in order to produce more grip and increased cornering speeds.
There's new technology ingrained in the concept's design, too: both the headlights and tail-lights feature laser wire rather than the more usual LEDs. These phosphor-coated glass fibres allow for very narrow and extremely precise lighting designs.
The two-seat interior continues an industry swing away from huge displays to more driver-oriented technology. Streaks of the 'Thrilling Orange' tint used on the car's exterior scythe through the cockpit, while the driver is presented with a slim steering wheel. Sitting behind it is a curved, transparent 'visor' display for essential information. Beyond that, the windscreen acts as a huge augmented-reality display, creating the perception that information, directions and hazard warnings are being projected directly on to the road and the surrounding scenery.
Partnership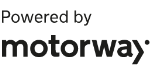 Need to sell your car?
Find your best offer from over 5,000+ dealers. It's that easy.
The interior is constructed using a mix of materials, including woven synthetic fibre and anodised titanium. Only the door pulls and the steering wheel are trimmed with leather. Interestingly, BMW has also developed a gyroscopic cup-holder, which is capable of keeping coffees completely upright even during hard cornering.
While tech like that is unlikely to make production, other features should translate into 2021's showroom model.
BMW's fantasy car future
BMW i Vision Dynamics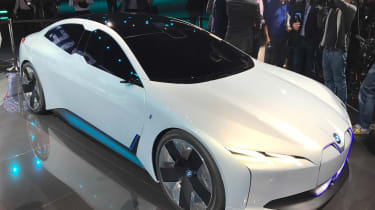 Low-slung four-door coupé wowed at Frankfurt Motor Show in 2017. It previews the i4 – an ultra-long-range electric saloon capable of 435 miles on a single charge, which is due in showrooms in 2021.
BMW iX3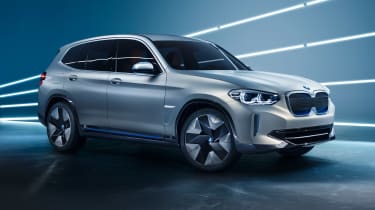 The iX3 concept landed at the Beijing Show in 2018 and the production car – due later this year – will be built in China. It uses the same platform as the regular X3, and a 70kWh battery for a range of 249 miles.
BMW Vision iNEXT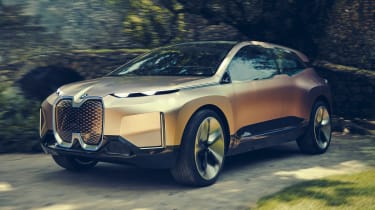 Full-size BMW Vision iNEXT all-electric SUV is coming in 2021, and was previewed by a concept at the Los Angeles Show last year. It shares its platform with the i4, and will shape up as a technological flagship for the brand.
BMW Vision NEXT 100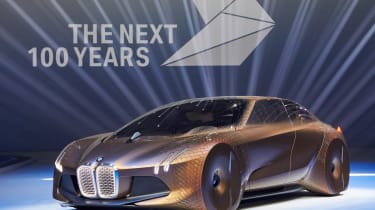 Revealed in 2016 to celebrate BMW's centenary, the Vision NEXT 100 is a stargazing project imagining a BMW 100 years from now. It's all-electric, autonomous and shape-shifting, too.
Are you looking forward to seeing the new BMW i8? Let us know your thoughts below…