BMW X5 eDrive plug-in hybrid spotted
BMW X5 eDrive plug-in hybrid has been snapped ahead of 2015 release date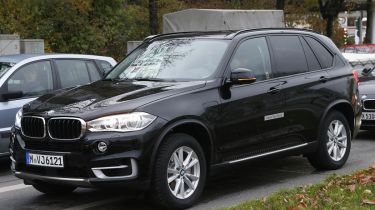 The BMW X5 eDrive plug-in hybrid is on its way to production, as revealed by these spy shots of a near-standard looking X5. It's only when you look closer that you can see the charging port flap mounted on the left-hand front wing.
BMW has already previewed this model with a concept – revealed at the Frankfurt Motor Show in September – but many of that car's styling details aren't on this prototype. That could change for production, though, where the blue-tinted BMW badges, bespoke front-end styling and unique alloy wheel designs of the concept could re-emerge.
Expect to see the same powertrain found in the concept and the same economy figures, too. That means it'll be fitted with a four-cylinder petrol engine and a 95bhp electric motor, delivered through a four-wheel-drive system. Capable of travelling around 20 miles on electric power, the X5 eDrive should boast figures of 74.3mpg and less than 90g/km of CO2. Despite the impressive economy, expect a 0-62mph time of around seven seconds.
There's still a lot of work to be done tweaking the eDrive powertrain until BMW will be happy to put the car on sale, so despite the advanced look of these prototypes we're still expecting an on-sale date during 2015. After all, BMW will want to give its i3 and i8 electric/hybrid models a chance to thrive.
When it does arrive it will likely have competition from a plug-in hybrid version of the Audi Q7. While not exactly a competitor, Mitusbishi will begin selling a plug-in hybrid version of its Outlander SUV in 2014, boasting fuel economy of 144mpg.