BMW X6 xDrive50i review
We drive the V8-powered BMW X6 xDrive50i - currently the fastest and most expensive X6 you can buy
What's fascinating about the X6 is when the first-generation X6 was launched six years ago the sense of shock and disapproval was palpable, but in 2014 it's been absorbed into the automotive landscape and accepted for what it is – a style statement that appeals to some and repulses others. And whether you want one or not, you have to admire it.
BMW expects as much as 80 per cent of new X6 sales to be xDrive30d models and most of the rest to be M50ds, but a handful of its wealthiest customers will go for this V8-powered xDrive50i version. Why? Because currently it's the fastest and most expensive new X6 you can buy.
An X6M (and X5M), powered by a 552bhp version of the 50i's 444bhp 4.4-litre twin-turbo V8, are expected to be revealed at the LA Motor Show next month. But until then this is the cream of the X6 crop, capable of blasting from 0-62mph in 4.8 seconds – 0.4 seconds faster than the M50d. What's strange though is that despite being more powerful and faster than the M50d, the 50i doesn't get the same set of 'M Performance' tweaks (firmer rear air suspension, quicker steering, beefed up bodywork) so is actually more sedate to drive.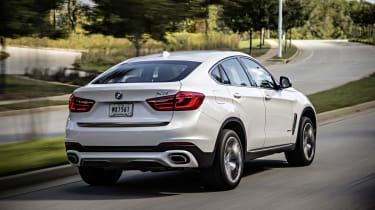 We should put 'sedate' in context though – on full throttle this 2,170kg SUV flies out of the blocks, delivers a thump of acceleration whenever you need it and the exhausts sound like their gargling unleaded. There's nothing subtle about the way it looks, sounds or devours straights then, but this car isn't aimed at shrinking violets.
Barrel into a corner at ten tenths and you'll miss the faster steering rack in the M50d and the fraction less body roll at the rear axle, but stay well within the 50i's sizeable limits and you'll be hard pushed to tell the difference. Sitting high but staying so flat in corners feels like a contradiction, but you learn to trust it, and the way the X6 adopts a neutral stance, grips hard and inspires confidence to drive fast beggars belief.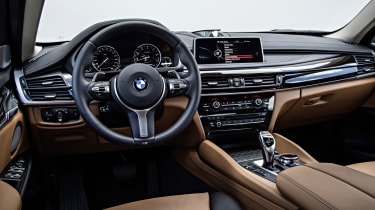 The trade off is a firm ride when you hit bigger bumps, but they were far and few between on the smooth roads around the X6's manufacturing plant in Spartanburg, South Carolina. We'll be able to tell more about its everyday comfort when we get our hands on the X6 in the UK, but so far the signs are good.